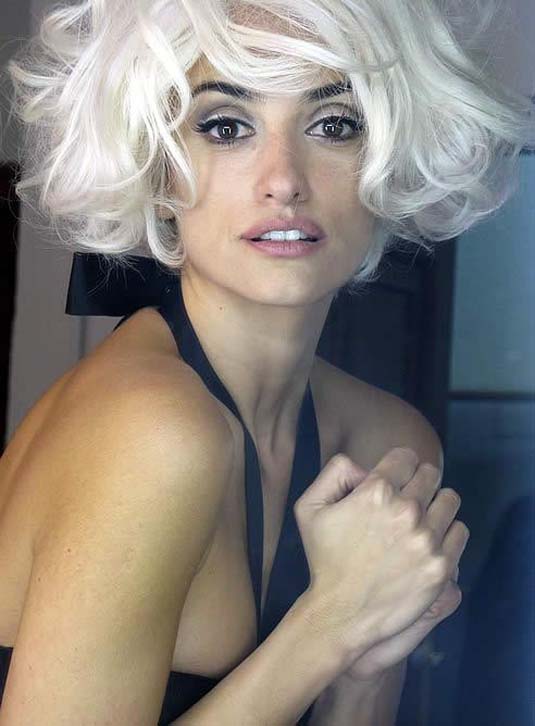 Pedro Almodovar's latest film "Broken Embraces" ("Los Abrazos Rotos") shown at Cannes Film Festival in competition, drops his distinctive comic melodrama for the best tradition of "film noir," the dark and stylish film genre used in many crime dramas.
Oscar-winning director Almodovar (for foreign-language film with "All About My Mother" and original screenplay for "Talk to Her.") described his 17th film and with the highest budget yet of 11 million euros ($14.16 million), as "the story of my love for the cinema."
"The film noir genre is one of my favorites. The fact this film was really "black" was what was very satisfying."
enlarge the photos below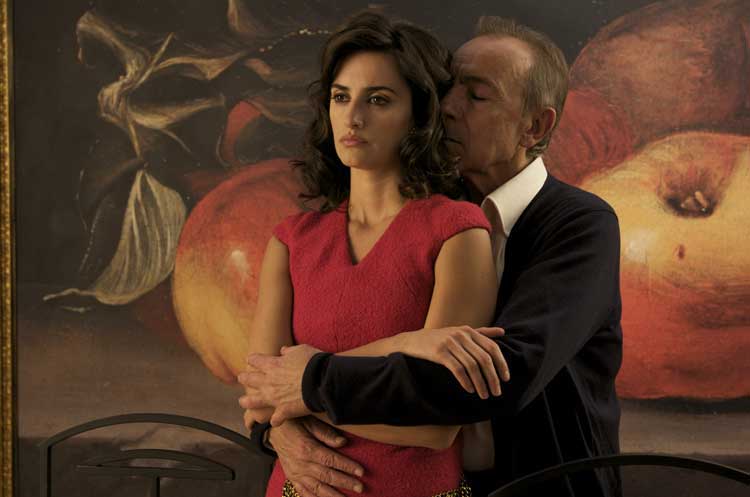 The film stars recent Oscar winner Penelope Cruz in the role of a tragedy-dogged aspiring actress.
"Broken Embraces" centers on a quartet of characters in the movie business whose lives are interwoven in a torrid tale of love, power, secrecy, betrayal and vengeance. There is the actress Lena (Cruz), script writer and director Mateo (Lluis Homar), film producer Judith (Blanca Portillo) and unscrupulous financier Ernesto (José Luis Gómez).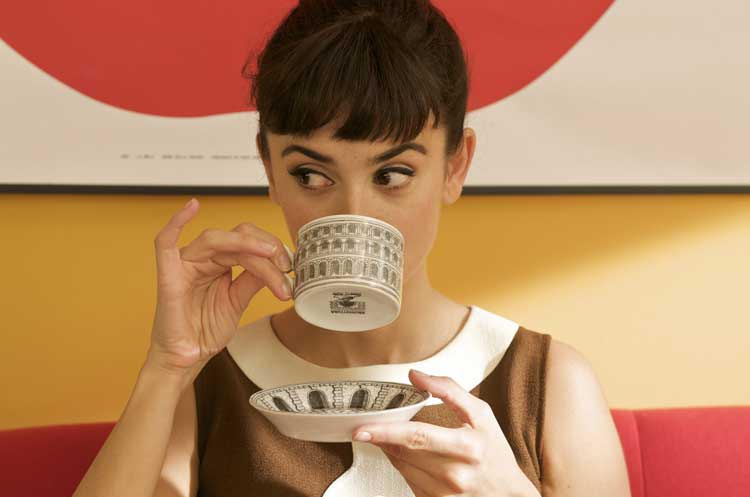 "While the movie as a whole is thoroughly engrossing and all the movie references and subplots involving the cinema world undoubtedly enrich his story, this is a pretty minor film from the filmmaker. It feels like more of an exercise in plotting and movie nostalgia than a story about real people…
…For all this window dressing, "Broken Embraces" remains a 1950s-style Douglas Sirk melodrama with breathless revelations in the final reel. One or two stretch credibility about as far as it will go. Cruz and Homar do play their parts with flair though. Cruz, who is given an Audrey Hepburn hairdo in the movie within the movie, is glamorous, ambitious and utterly in love with her new man." HollywoodReporter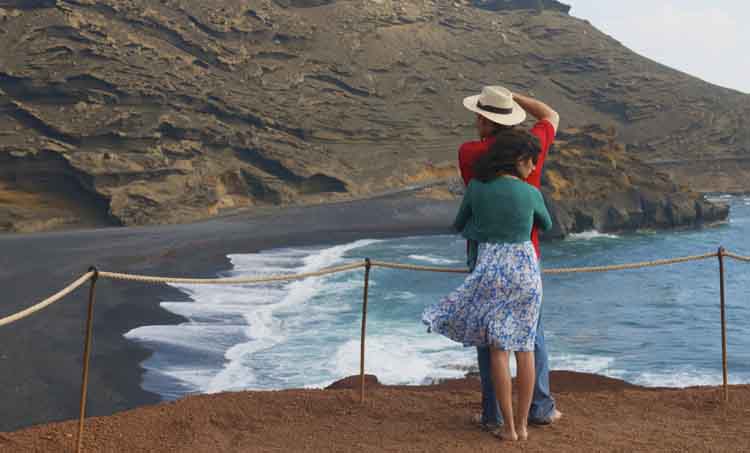 "Pedro Almodovar offers nothing new in his latest feature, "Abrazos Rotos" ("Broken Embraces"), but that's probably enough for his devout followers. With solid performances and a script that's never too hard on the ears, Spain's superstar director merely repeats the themes and conflicts of his greatest hits. With secretive family issues, tortured artists, melodramatic events and slight humor all in play, Almodovar dutifully plays to his base…" IndieWire
"It's curious to reflect that the great Spanish director Pedro Almodóvar, once the enfant terrible of European cinema, turns 60 this year. In his maturity, he remains a distinctive stylist and a dazzling film-maker with technique to burn. Yet while his new film Broken Embraces parades his many virtues, it treads water rather than breaks new ground.
Despite its rich, vivid palette, Broken Embraces feels like Almodóvar's take on noir dramas of the 40s and 50s…
…He is at his best in such films as Live Flesh, All About My Mother and Volver, with their personal, deeply felt narratives. Instead, Broken Embraces often feels like a schematic exercise, an ingenious puzzle that requires a film within a film to supply answers… One hopes Broken Embraces is a breather for Almodovar, a chance to take stock of the themes that intrigue him. Next time, a simpler, more affecting story would be welcome." Telegraph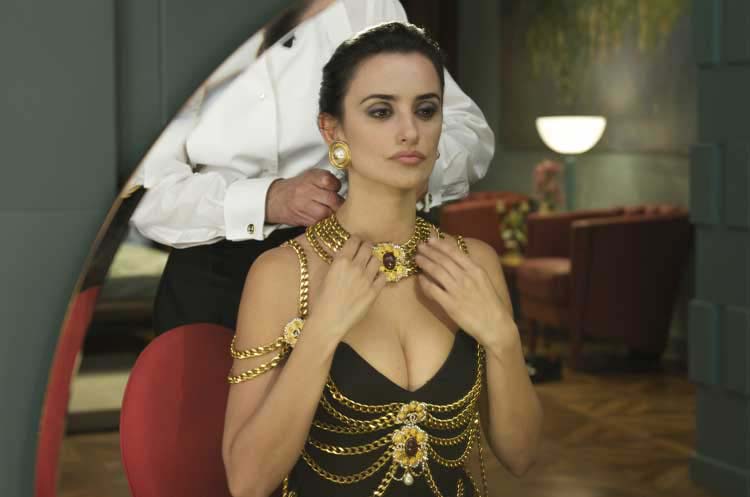 "The action unfolds in flashback. Mateo Blanco (a likeable, low-key Lluis Homar) is a blind screen writer and former film director who is now confined to his Madrid apartment where he grapples with his tumultuous past. He recalls in particular the mid-1990s, where he fell in love with Lena (Cruz), a tremulous, sad-eyed beauty who traded on her charms to become the mistress of a domineering magnate, Ernesto Martel (Jose Luis Gomez)…

…Fans of Almodovar will get plenty of what they expect here – rich saturated colours, hyper plotting, stylistic pyrotechnics and off-centre comedy. But there are carefully nuanced male characters too and the bleak, distant tone coupled with the unassuaged pain of the leads is a new departure for the director…" ScreenDaily
"Films about filmmaking are almost invariably deeply personal works for their director. Fellini's 8 ½, Truffaut's Day For Night: both movies contain the creative essence and the artistic insecurities of the filmmaker laid bare with a candour that is not always present in their other work. But the same is not true of Pedro Almodovar's Broken Embraces, a polished, handsomely-mounted picture which nevertheless leaves you with a sense of deflated emptiness…
…The layered structure of the story is echoed effectively by the use of reflections and images within images in the film. There is, it has to be said, no shortage of ideas here, and cineastes will have fun spotting all the movie references. Still, ultimately a fundamental problem stems from just that: the film feels like a mixed bag of smart ideas and nods to other pictures, rather than a coherent, distinct work of art." TimesOnline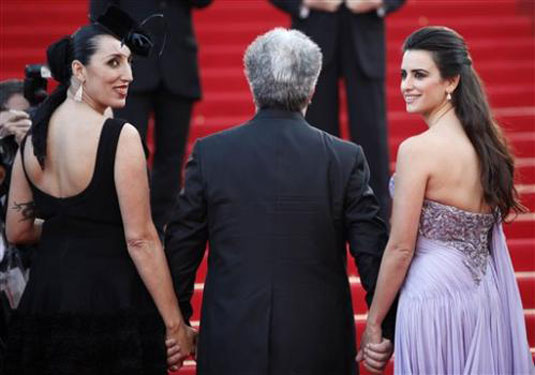 "Partly a film about films and partly a film about love, Pedro Almodovar's "Broken Embraces" can't quite decide where its allegiances lie. A restless, rangy and frankly enjoyable genre-juggler that combines melodrama, comedy and more noir-hued darkness than ever before, the pic is held together by the extraordinary force of Almodovar's cinematic personality. But while its four-way in extremis love story dazzles, it never really catches fire…" Variety
"Pedro Almodóvar has always managed to combine elegance and exuberance, and his latest movie is no exception: a richly enjoyable piece of work, slick and sleek, with a sensuous feel for the cinematic surfaces of things and, as ever, self-reflexively infatuated with the business of cinema itself. Yet I wonder if Almodóvar isn't in danger of retreading old ideas. It doesn't quite match the heartfelt power of his 2006 Cannes film festival contender, Volver; Broken Embraces is always conspicuously concerned with passion, but without being itself fully passionate…
…The film-within-a-film motif is head-spinningly sophisticated, though the theme of cinema itself within cinema (traditionally rather overrated by cinephiles in terms of interest and importance) is kept fresh and alive through Almodóvar's sheer energy." Guardian