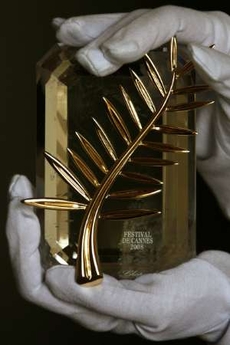 As we already wrote "
Entre les Murs
" ("
The Class
") directed by
Laurent Cantet
won the
Golden Palm
(
Palme d'Or)
at
2008 Cannes Film festival
.Other winners included
Jean-Pierre
and
Luc Dardenne
, two-time Palme d'Or recipients, who took the screenplay award for "
The Silence of Lorna
."
Sandra Corveloni
, who played a working-class mother in São Paulo in Walter Salles and Daniela Thomas's "
Linha de Passe
," won the best actress award.
Benicio Del Toro
, who played the title in
Steven Soderbergh
's "
Che
" won the prize for best actor. The directing award went to
Nuri Bilge Ceylan
for "
Three Monkeys
," a film about a disintegrating Turkish family. Both the jury prize and the grand prix went to Italian films: -the jury prize to "
Il Divo
,"
Paolo Sorrentino
's highly stylized portrait of former Italian prime minister Giulio Andreotti -and the grand prix to
Matteo Garrone
's "
Gomorrah
," a brutally realistic examination of organized crime in Naples. The Caméra d'Or for best first feature went to
Steve McQueen
's "
Hunger
," (
Un Certain Regard
) which unsparingly depicts the protests of imprisoned IRA militants in the 1980s. The jury conferred two special prizes for
Catherine Deneuve
for "
Un Conte De Noel
" and
Clint Eastwood
for "
The Exchange
."
 In Competition
Un Certain Regard Prize "
Tulpan
" by
Sergey Dvortsevoy
Jury Prize "
Tokyo Sonata
" by
Kurosawa Kiyoshi
Heart Throb Jury Prize "
Wolke 9
" by
Andreas Drese
The Knockout of Un Certain Regard "
Tyson
" by
James Toback
Prize of Hope "
Johnny Mad Dog
" by
Jean-Stéphane Sauvaire
Un Certain Regard
American distributors had, by the end of the festival, bought some of the most interesting films in and out of competition. The
IFC Films
picked up three titles: "A Christmas Tale," "Hunger" and "The Chaser" a violent Korean thriller about a serial killer.
Sony Pictures Classics
confirmed that it also had bought three movies: "The Silence of Lorna"; "Waltz with Bashir" by the Israeli director Ari Folman, an animated documentary about the veterans of the 1982 war in Lebanon; and the Norwegian film "O' Horten," from Bent Hamer ("Kitchen Stories," "Factotum"). Sony Classics is also rumored to be going after James Toback's documentary "Tyson," a portrait of the former heavyweight champion Mike Tyson. Soderbergh's "Che",
Charlie Kaufman
's "
Synecdoche, New York
,"
James Gray
's "
Two Lovers
," and
Fernando Meirelles' "Blindness"
received mixed verdicts from the critics and were passed over by the jury. It is nearly certain that those films, with their Oscar-pedigree casts – del Toro in "Che,"
Phillip Seymour Hoffman
and
Catherine Keener
in "Synecdoche,"
Joaquin Phoenix
and
Gwyneth Paltrow
in "Two Lovers",
Julianne Moore in 'Blindness"
– will make their way into American theaters some time in the future.