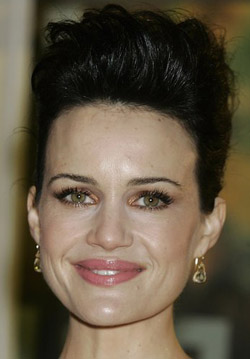 Carla Gugino
has joined to the cast of
Zack Snyder
's fantasy action movie "
Sucker Punch
." Gugino last worked with Snyder on "Watchmen," where she starred as the first Silk Spectre. "SuckerPunch" which Snyder likes to call "Alice in Wonderland with machine guns" is set in the 1950s and follows Babydoll (
Emily Browning
) who is confined to a mental institution by her stepfather, who intends to have her lobotomized in five days. While there, she imagines an alternative reality to hide her from the pain, and in that world, she begins planning her escape, needing to steal five objects to help get her out. Gugino will play a nurse in the insane asylum who becomes a madam at a brothel in the film's alternate reality.
Emily Browning, Vanessa Hudgens, Jamie Chung, Jena Malone
and
Abbie Cornish
also stars the movie. "SuckerPunch" begins shooting in early fall in Vancouver and is set to be released on March 25, 2011.