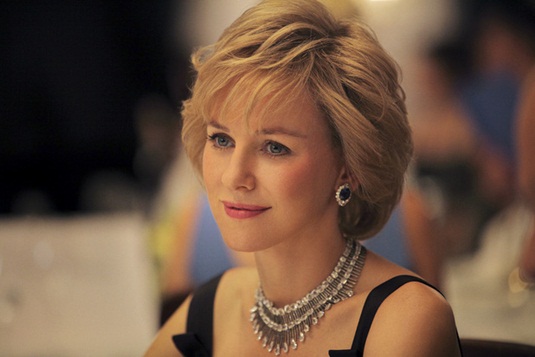 We reported,
earlier this week
when the first images of
Naomi Watts
as Princess Diana emerged online with the drama under its working title of Caught in Flight. Ecosse Films has today announced that the title has been renamed
Diana
alongside the first official look at Academy-Award nominated actress Watts as the eponymous and iconic Princess. Directed by
Oliver Hirschbiegel
(Downfall), the film will center on the two years leading up to Diana's death (as well as Downfall was a great depiction of the final days of Hitler), and her alleged affair with heart surgeon Dr Hasnat Khan played by Lost star
Naveen Andrews
; the biopic also stars
Douglas Lodge
and
Juliet Stevenson
. Naomi Watts recently said:
I'm excited and honoured to be playing the role of a truly remarkable woman, who had such a positive and profound impact in so many ways.
Ecosse Films' Robert Bernstein and Douglas Rae stated today:
We are very excited to be working with such a talented and creative team both in front of and behind the camera. Everyone's aim is to produce a truly insightful and compassionate study of Diana's later years.
Just click to see the larger version of the image below.
The title changed film Diana, which principal photography started this week is expected to hit theaters in early 2013.