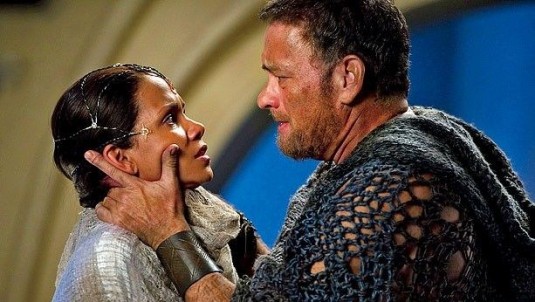 Everything is connected!
Tom Tykwer
,
Andy Wachowski
and
Lana Wachowski
all stand behind that secret connection which is set to hit the theaters this month. And of course, we are talking about
Cloud Atlas
movie! Today we have even more great images from the whole thing to share with you, hope you'll enjoy! This sci-fi drama will (hopefully) teach us how the actions and consequences of individual lives impact one another throughout the past, the present and the future. So you better get ready for some action mixed with a lot of mystery and romance!
Cloud Atlas
is the story of one soul which gets shaped from a killer into a hero, where a single act of kindness travels across centuries to inspire a revolution in the distant future. The movie stars
Tom Hanks
,
Halle Berry
,
Jim Broadbent
,
Hugo Weaving
,
Jim Sturgess
,
Doona Bae
,
Ben Whishaw
,
James D'Arcy
,
Xun Zhou
,
Keith David
,
David Gyasi
,
Susan Sarandon
and
Hugh Grant
.
Cloud Atlas
is set to open on October 26th, 2012.