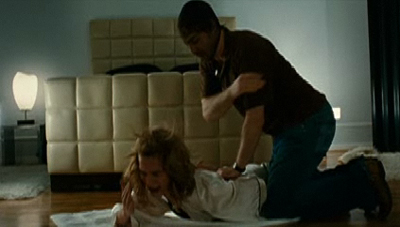 The Red Band trailer for the upcoming "
Choke
",
Clark Gregg
's directorial debut, has been released, featuring several adult scenes, some adult language. "Choke" is a black comedy about Victor Mancini (
Sam Rockwell
), a sex addict who works as a Colonial War re-enactor and runs a con scheme that involves deliberately choking in restaurants and attaching himself parasitically to his rescuers. His reason for doing this, is to fund his mother's (
Anjelica Huston
) care at a private mental hospital. "Choke" starring Sam Rockwell, Anjelica Huston and
Brad William Henke
is based on a novel written by
Chuck Palahniuk
, the man behind "Fight Club." The movie is scheduled to hit theaters on August 1st.