Movie News
Critics' Choice Awards 2011: The Queen and King of Hollywood – Portman and Firth Win at Critics' Choice Awards
Natalie Portman and Colin Firth took top honors Critics' Choice Awards at Hollywood Palladium in Los Angeles on Friday night (January 14), making them many people's favorites for the Oscars. The actress, who won for her role in Black Swan, used her acceptance speech to thank the film's director Darren Aronofsky for introducing her to her husband-to-be, dancer Benjamin Millepied.
You are responsible for getting me skinny and indirectly responsible for getting me very fat, as you introduced me to my love
Meanwhile, Colin Firth's win for his role as the stammering King George in The King's Speech, topped off a week which also saw him awarded a star on the Hollywood Walk of Fame.
Christian Bale | CRITICS' CHOICE AWARDS 2011

His fellow British actor Christian Bale won The Best Supporting Actor gong for his intense act as former boxer Dicky Ekland in The Fighter. And in his acceptance speech, he dedicated the prize to Ekland, and said
This feels great because I feel like he's winning as well.'
The Fighter also won the Cast Ensemble Award along with a gong for Melissa Leo as Best Supporting Actress. But the film honours belonged to Facebook movie The Social Network, with West Wing scribe Aaron Sorkin also winning for Best Adapted Screenplay. The movie which stars Justin Timberlake, is also one of the favourites to win Best Picture at Sunday Night's Golden Globe ceremony. Other winners included 14-year-old Hailee Steinfeld for her acclaimed role in the Coen Brothers remake True Grit. The 22-year-old Emma Stone actress took home the award for Best Comedy for Easy A alongside director/producer Will Gluck, and producer Zanne Devine.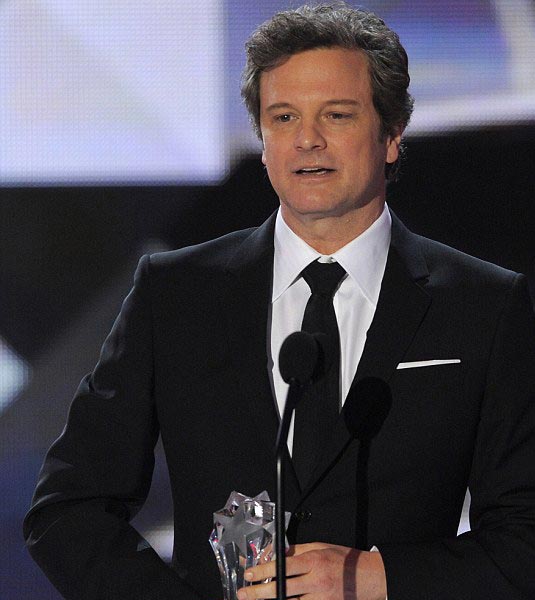 Colin Firth | CRITICS' CHOICE AWARDS 2011

Check out the winners below Best Picture: The Social Network Best Actor: Colin Firth (The King's Speech) Best Actress: Natalie Portman (Black Swan) Best Supporting Actor: Christian Bale (The Fighter) Best Supporting Actress: Melissa Leo (The Fighter) Best Young Actor/Actress: Hailee Steinfeld (True Grit) Best Acting Ensemble: The Fighter Best Director: David Fincher(The Social Network) Best Original Screenplay: David Seidler (The King's Speech) Best Adapted Screenplay: Aaron Sorkin (The Social Network) Best Cinematography: Wally Pfister (Inception) Best Art Direction: Guy Hendrix Dyas (Inception) Best Visual Effects: Inception Best Sound: Inception Best Animated Feature: Toy Story 3 Best Action Movie: Inception Best Comedy: Easy A Best Picture Made For Television: The Pacific Best Foreign Language Film: The Girl With The Dragon Tattoo Best Documentary Feature: Waiting For Superman Best Song: If I Rise (127 Hours) Best Score: Trent Reznor and Atticus Ross (The Social Network) The Joel Siegel Award: Matt Damon The Music+Film Award: Quentin Tarantino
The Social Network cast members Jesse Eisenberg, Armie Hammer and Andrew Garfield pose with screen writer Aaron Sorkin, Kevin Spacey and producers, CRITICS' CHOICE AWARDS 2011
Related Topics:
Aaron Sorkin, Black Swan, Christian Bale, Colin Firth, David Fincher, Easy A, Emma Stone, Hailee Steinfeld, Natalie Portman, The Fighter, The Girl With The Dragon Tattoo, The King's Speech, The Social Network