Movie News
Da Vinci Code 3, THE LOST SYMBOL, Hires Writer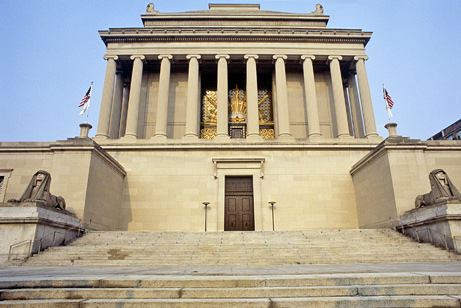 Sony Pictures were eying for some time a man to adapt to the big screen a puzzle-packed fantasy
The Lost Symbol
, novelist
Dan Brown
's sequel to The Da Vinci Code. Steven Knight (Eastern Promises) wrote the first draft of the script after which Brown himself had a hand in the script, but now it looks like Sony is handing the project off to
Danny Strong
(Recount). Third installment of the Brown thrillers, focusing on symbologist Robert Langdon (Tom Hanks), will be directed by
Mark Romanek
(Never Let Me Go) after Ron Howard returned to only produce. Tom Hanks hasn't yet signed on. Brown opens The Lost Symbol in Washington, D.C.'s House of the Temple, headquarters of the Scottish Rite of Freemasonry's Southern Jurisdiction of the United States of America (above).
Returning hero Robert Langdon comes to Washington to give a lecture at the behest of his old mentor, Peter Solomon. When he arrives at the U.S. Capitol for his lecture, he finds, instead of an audience, Peter's severed hand mounted on a wooden base, fingers pointing skyward to the Rotunda ceiling fresco of George Washington dressed in white robes, ascending to heaven. Langdon teases out a plethora of clues from the tattooed hand that point toward a secret portal through which an intrepid seeker will find the wisdom known as the Ancient Mysteries, or the lost wisdom of the ages. A villain known as Mal'akh, a steroid-swollen, fantastically tattooed, muscle-bodied madman, wants to locate the wisdom so he can rule the world. Mal'akh has captured Peter and promises to kill him if Langdon doesn't agree to help find the portal. Joining Langdon in his search is Peter's younger sister, Kathleen, who has been conducting experiments in a secret museum. This is just the kickoff for a deadly chase that careens back and forth, across, above and below the nation's capital, darting from revelation to revelation."
Could Strong do what Akiva Goldsman did not, or not do what he did?