Movie News
Daniel Craig in The Girl With The Dragon Tattoo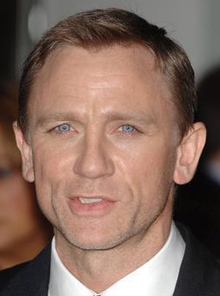 Ok, this sounds interesting!
The Girl With The Dragon Tattoo
producers are in talks with the Bond star
Daniel Craig
, to join the cast of the adaptation of this well-known crime novel. So, if everything goes well, Craig could be the next journalist Mikael Blomkvist, the leading male role in a movie already being described as "a very heavy, epic tale of serial murder and corporate trickery spanning several continents." So, we already had a little chat about this U.S. remake of the hit 2009 Swedish film, and you already know that it will be directed by the man we all remember from movies like Se7en, Fight Club or The Curious Case of Benjamin Button –
David Fincher
.
Steven Zaillian
was in charge for the screenplay, and the duo said that the film will be a completely different take on the story from the Swedish version. The basic story is about: "16-year old Harriet Vanger disappeared without a trace, on September 29th 1966. Nearly forty years later, a journalist gets contacted by an industrial leader who wants him to write the history of the Vanger family. The family chronicle is just a cover for the real assignment: to find out about what really happened to Harriet." And although we had a chance to hear Fincher wants to cast an unknown face to play Lisbeth, a number of stars including
Scarlett Johansson
and
Natalie Portman
have already being linked to the role. On the other hand,
Brad Pitt
and
George Clooney
were both rumored for the leading male role, that now seems to be reserved for
Daniel Craig
.