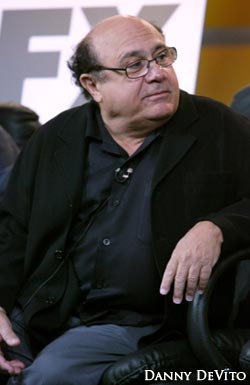 Danny DeVito
is to step behind the camera once again to direct
Morgan Freeman
,
Pierce Brosnan
and
Saoirse Ronan
in "
The True Confessions of Charlotte Doyle
", according to
Variety
DeVito wrote the script, an adaptation of the bestselling young adult novel written by Avi. The film is in pre-production, with shooting to begin in September. Ronan has been cast for the title character – a teen who makes a trans-Atlantic crossing from England to America in the 1830s. During the journey, she finds herself in the middle of conflict between the ship's captain and his mutinous crew. Brosnan has signed to play the ship's captain and Freeman will handle the role of ship's cook – who also helps Ronan on her journey. DeVito, who will not appear in the film, returns to young adult fare for the first time as director since "
Matilda
," the 1996 adaptation of the
Roald Dahl
novel. He's worked on the script for several years. The film will be produced by
Michele Weisler, Lori McCreary, Beau St. Clair
and
Patrick Meehan
.
Thomas D. Adelman
and
Hawk Koch
are handling executive producing chores. In Variety, DeVito stated:
"Like 'Matilda,' this had topnotch moral lessons in terms of choices that a 13-year-old girl has to make."