Movie News
Danny Elfman's DARK SHADOWS Original Score to be Released on May 8th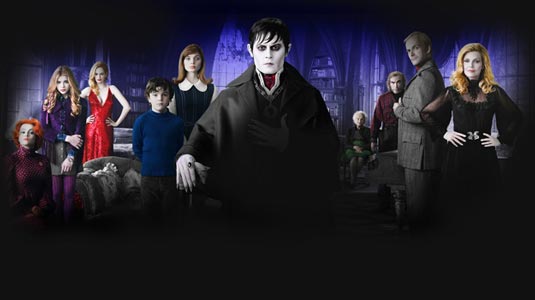 WaterTower Music will release
Dark Shadows
– Original Score digitally and in stores on May 8th, 2012. The album features original music by Grammy Award-winning and four-time Oscar-nominated composer
Danny Elfman
, which is featured in director
Tim Burton
's new gothic comedy
Dark Shadows
. This film will represent something of an anniversary – marking the 14th collaboration between those two, so happy anniversary and may you have a long productive life and make us many more wonderful movies! For more than 25 years, Burton and Elfman have worked together on some of the cinema's most recognizable films and soundtracks, including
Big Fish
,
Batman
,
Beetlejuice
,
Sleepy Hollow
,
Edward Scissorhands
, my two favourites
Corpse Bride
and
The Nightmare Before Christmas
and also recent
Alice in Wonderland
. Elfman has also received Oscar nominations for scores from
Barry Sonnenfeld
's
Men in Black
and
Gus Van Sant
's
Good Will Hunting
and
Milk
. All in all, his unique style and sound appear in eighty or so film scores, among them
Sam Raimi
's
Spider-Man
,
Brian De Palma
's
Mission: Impossible
,
Rob Marshall
's Oscar-winning
Chicago
and recently in
Shawn Levy
's
Real Steel
. As for the Dark Shadows story, it is set in the year 1750. Joshua and Naomi Collins, with young son Barnabas, set sail from Liverpool, England, to start a new life in America. Two decades pass and Barnabas (Johnny Depp) has the world at his feet—or at least the town of Collinsport, Maine (hmmm… Maine. Did Steven King have his hands in this?). The master of Collinwood Manor, Barnabas, is rich, powerful and an obsessive playboy… until he makes the grave mistake of breaking the heart of Angelique Bouchard (Eva Green). A witch, in every sense of the word, Angelique dooms him to a fate worse than death: turning him into a vampire, and then burying him alive. Two centuries later, Barnabas is inadvertently freed from his tomb and emerges into the very changed world of 1972. He returns to Collinwood Manor to find that his once-grand estate has fallen into ruin and the dysfunctional remnants of the Collins family have fared little better, each harboring their own dark secrets. Dark Shadows is coming to theaters on May 11th, starring
Johnny Depp
,
Eva Green
,
Michelle Pfeiffer
,
Helena Bonham Carter
,
Jackie Earle Haley
,
Jonny Lee Miller
,
Chloe Grace Moretz
,
Bella Heathcote
and
Gully McGrath
. The Dark Shadows — Original Score on WaterTower Music will be available digitally and in stores on May 8, 2012; and on the same date, WaterTower Music will also be releasing the Dark Shadows –Original Motion Picture Soundtrack, containing eleven songs from the film.