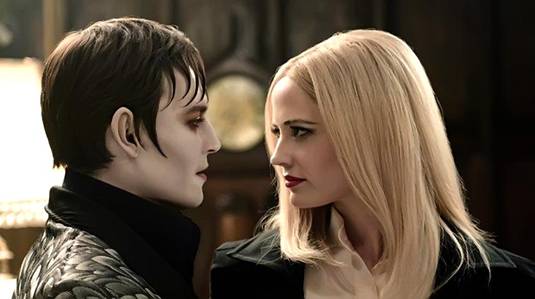 The much-awaited trailer for Dark Shadows has hit the web! Warner Bros and Village Roadshow have released the first official trailer for the Johnny Depp-Tim Burton's take on the gothic horror 60's TV series, which turns out to be very much a comedy.
The trailer starts out on a pure gothic note, but soon after you could see Barnabas Collins (Depp), a man who is turned into a vampire, struck by cultural shock, a vengeful witch Angelique Bouchard (Eva Green) who shamelessly seduces Collins, finally licking his chest and face with the world's longest tongue and other Burton's trademark whimsy kicks.
The upcoming re-imagining of the cult TV show also stars Helena Bonham Carter, Chloe Moretz, Michelle Pfeiffer, Jackie Earle Haley and Jonny Lee Miller among others.
Warner Bros. Pictures will release the soap opera-adapted movie in the U.S. theaters on May 11th, 2012.
All in all it's a pretty good start to your Friday here at the FilmoFilia. Sink your teeth into the trailer below along with the brand new one-sheet poster.