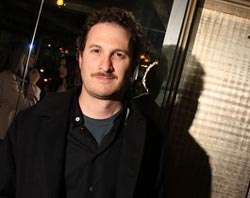 I know we're talking too much about Cannes. And you're right, it's not all about Cannes! It's about Venice as well!
I'm sure you already know that the 68th edition of Venice Film Festival will run from August 31- September 10, 2011, and today we learned that Darren Aronofsky, author of the opening film of the 67th Venice Film Festival, Black Swan, and winner of the 2008 Golden Lion for The Wrestler, will be the president of the International Jury for the Competition at the 68th Venice International Film Festival. So, let's start our chat about this Festival with official press release.
"The decision was made by the Board of Directors of the Biennale di Venezia, chaired by Paolo Baratta, which accepted the recommendation by the Director of the Venice International Film Festival, Marco Müller. Darren Aronofsky garnered extraordinary critical and commercial success worldwide for Black Swan, a film that was able to infuse the sensibility of the boldest independent cinema, which shaped Aronofsky's early years, with mass appeal, and to combine the pulp universes of melodrama and horror with a totally original and sophisticated artistic vision.
Dedicating the cover of the February 2011 issue to the film, the magazine Cahiers du Cinema described Aronofsky as the "leader of a new generation". Black Swan, which upon its release established a new box office record for Fox Searchlight Pictures, received 5 Oscar nominations including best director and best picture and 4 Golden Globe Award nominations. Black Swan swept the Independent Spirit Award (the Oscars of independent filmmaking) winning best feature, best director, best female lead and best cinematography.
By the way, for his earlier work "The Wrestler", back in 2008, Aronofsky was awarded the Golden Lion at the 65th Venice International Film Festival, and later won the Independent Spirit Award for best feature. For his memorable, heart-rending interpretation, the star Mickey Rourke won the Golden Globe, the BAFTA and the Independent Spirit Award, as well as an Oscar nomination, and prizes from all the major associations of film critics.
In 2006 Aronofsky participated in the Competition at the 63rd Venice International Film Festival with "The Fountain", a romantic and psychedelic science fiction film starring Hugh Jackman and Rachel Weisz. Premiere Magazine's Glenn Kenny stated that "The Fountain", "may well restore your faith in the idea that a movie can take you out of the mundane and into a place of wonderment." Since its release "The Fountain" has garnered a highly devoted fan following becoming a true cult sensation in the world of cinema."