Movie News
DEADPOOL's Tim Miller and Robert Liefeld updates on the movie project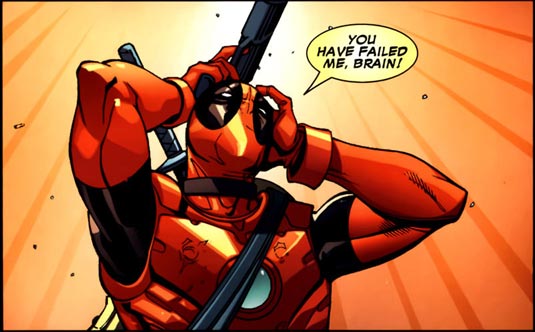 Deadpool director Tim Miller gave an update on the movie via his Kickstarter project, the Goon. Everything is ready, as he says. The only thing left was for FOX to go ahead and greenlight the project. Find out more after the jump.
"We've turned in an amazing script and done some early tests and visual development that–I'm confident–would get the fans stoked. And Ryan still loves the project. So it's really up to Fox as to whether or not the film happens – all I can do is hope (and beg periodically) that it be allowed to move ahead."
Glad to hear that Ryan Reynolds is still up for it. Here's to hoping that if the Deadpool movie becomes a reality, it won't try to connect with the X-Men movies in any way. Yeah, I'm still trying to forget THAT Deadpool… and I hope he will make up for his bad depiction in X-Men Origins: Wolverine… or else! Deadpool creator Robert Liefeld has chimed in with more news, stating that the departure of former Fox CEO Tom Rothman is one obstacle down on the path to bringing Wade Wilson to movie screens. Liefeld also says that he's already met with Mark Millar & Tim Miller to discuss the project. Liefeld event went as far as re-tweeing a comment that says Deadpool will show up in X-Men: Days of Future Past!
I assure you, as Deadpool's daddy that me, Tim Miller and @mrmarkmillar have huddled on all things Deadpool. We will storm the castle!! — robertliefeld (@robertliefeld) October 19, 2012
The single biggest blockade(blockhead?) is gone. Mr. Tom Rothman has been removed from Fox. Not a friend of Deadpool's. — robertliefeld (@robertliefeld) October 19, 2012
I've said it again, if the Deadpool test footage was seen, leaked, the Internet would freak and riots would ensue. Bloody PERFECT. — robertliefeld (@robertliefeld) October 19, 2012
I think the success of the Deadpool game will help immensely and get the Deadpool film a green light. It's going to be HUGE — robertliefeld (@robertliefeld) October 19, 2012
Now that would be interesting. In the meantime, you can check out the trailer for Halo 4 done by Tim Miller, just to get a feel of how the Deadpool visuals might look like: