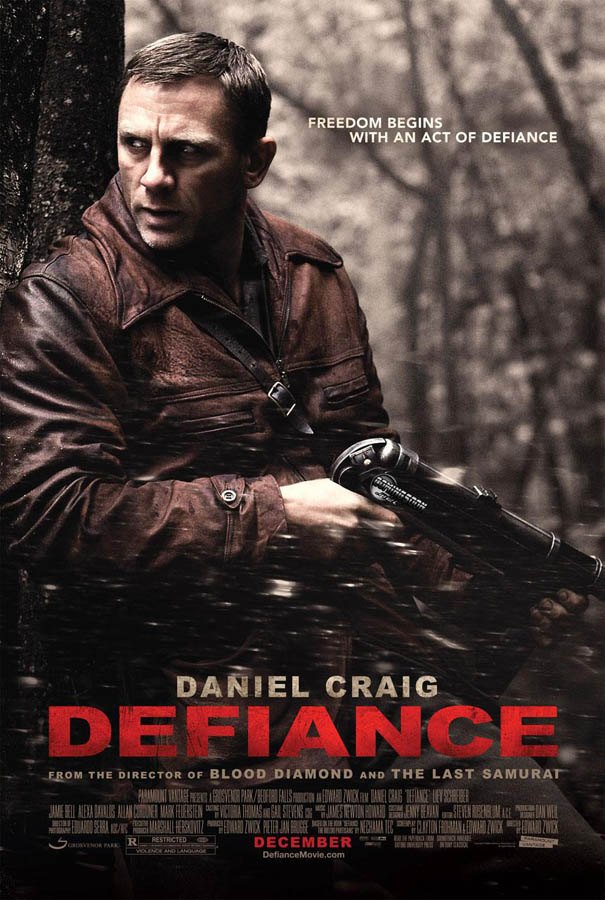 Check out the new movie poster and the trailer for the upcoming movie "
Defiance
" by director
Edward Zwick
, starring
Daniel Craig
(Tuvia Bielski),
Liev Schreiber, Jamie Bell
and
George MacKay
. The film revolves around Jewish brothers (Craig, Schreiber and Bell) living in Nazi-occupied Poland who escape into the Belarussian forest where they join Russian resistance fighters in battling the Nazis. Throughout the war, they build a village inside the forest and save the lives of more than 1,200 Jews. Zwick's screenplay is based on
Nechama Tec
's book "
Defiance: The Bielski Partisans
." [flv]http://brightcove.vo.llnwd.net/d6/unsecured/media/301783424/301783424_1846702346_Defiance-Trailer-Main-Trailer-480.flv[/flv] "Defiance" is scheduled to hit theaters on December 12th, 2008.