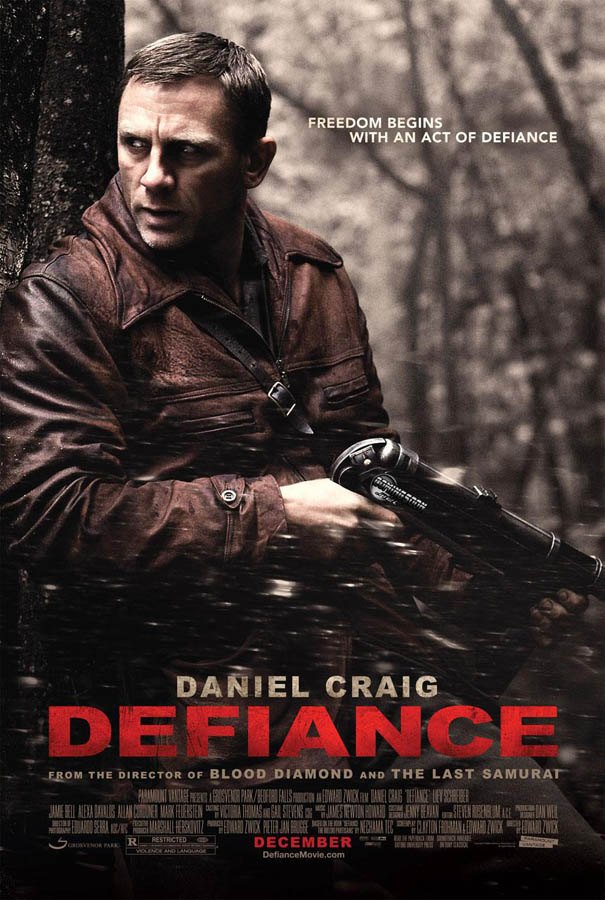 Check out the new movie poster and the trailer for the upcoming movie "Defiance" by director Edward Zwick, starring Daniel Craig (Tuvia Bielski), Liev Schreiber, Jamie Bell and George MacKay.
The film revolves around Jewish brothers (Craig, Schreiber and Bell) living in Nazi-occupied Poland who escape into the Belarussian forest where they join Russian resistance fighters in battling the Nazis. Throughout the war, they build a village inside the forest and save the lives of more than 1,200 Jews. Zwick's screenplay is based on Nechama Tec's book "Defiance: The Bielski Partisans."
[flv]http://brightcove.vo.llnwd.net/d6/unsecured/media/301783424/301783424_1846702346_Defiance-Trailer-Main-Trailer-480.flv[/flv]
"Defiance" is scheduled to hit theaters on December 12th, 2008.