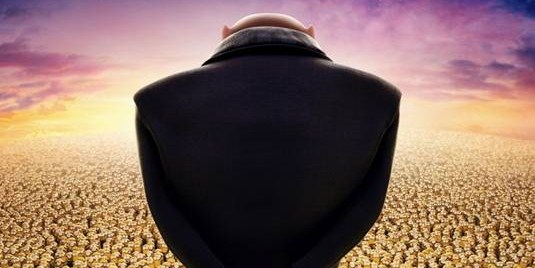 Steve Carell makes a bad guy look good in the latest poster for the upcoming Despicable Me 2 movie. Or, if you prefer: when the world needed a hero, they called a villain! Yep, this new one sheet is all about Gru, but as you're about to see – a lot of minions are out there as well. Head inside to take a better look… This summer directors Chris Renaud and Pierre Coffin are bringing us the sequel to the 2010 animated film Despicable Me (which, just for the record, grossed more than $540 million worldwide, against a budget of $69 million!) Beside Carrell, the movie also stars Kristen Wiig, Miranda Cosgrove, Russell Brand, Steve Coogan, Ken Jeong and Benjamin Bratt, and the whole thing is set to hit theaters on July 3rd, 2013. So, you better get ready for:
…more minion madness and the return of Gru, the girls, the unpredictably hilarious minions… and a host of new and outrageously funny characters.
As usual, make sure you click on this poster to enlarge, and in case you've missed our previous reports, we definitely recommend you to check out some great promo clips, trailer and another poster for the movie.