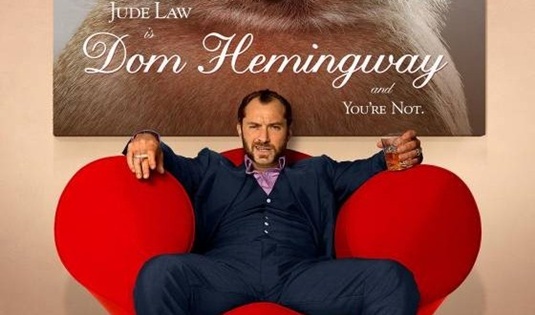 Dom Hemingway comes with no warning – God save us all! Here's one pretty cool poster for Richard Shepard's upcoming black comedy, which stars Jude Law as a larger-than-life safecracker with a loose fuse. But as you already see – he's one funny, profane, and dangerous guy, and he's about to screw things up for everyone…
Written and directed by Shepard, the movie revolves around the above mentioned Dom guy who's back on the streets of London, after twelve years in prison. It's time for Hemingway to collect what he's owed for keeping his mouth shut, but (it looks) that's not going to be an easy job… And here's why:
Travelling with his devoted best friend Dickie, Dom visits his crime boss Mr Fontaine in the south of France to claim his reward. But Dom's drink and drug-fuelled ego decides that what he's lost can't be replaced. One car accident and a femme fatale later, Dom realises that his priority must be to reconnect with his long-lost daughter Evelyn. But Dom does what Dom does best. He screws things up for everyone…
Also starring Richard E. Grant, Demian Bichir, Emilia Clarke and Kerry Condon, Dom Hemingway is set to hit theaters on April 4th, 2014. Before that, the movie is scheduled to be shown at this year's Toronto International Film Festival, which means only one thing – we'll soon have more updates to share! Stay tuned!