Movie Posters
Expose Your Own Secret: First Poster For THE FIFTH ESTATE, Starring Benedict Cumberbatch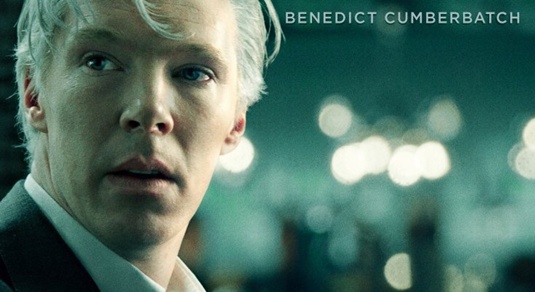 We already shared one pretty cool
trailer
and some
pics
from
The Fifth Estate
, now it's time for us to add the very first poster for the whole thing to our little gallery. Nothing spectacular, just another look at
Benedict Cumberbatch
and
Daniel Bruhl
, who are back to remind us that – you can't expose the world's secrets without exposing your own… Let us once again remind you that
Bill Condon
directed this dramatic thriller from a script written by
Josh Singer
, which is based on true events and reveals the quest to expose the deceptions and corruptions of power that turned an Internet upstart into the 21st century's most fiercely debated organization. In other words, the movie focuses on WikiLeaks founder Julian Assange (played by Cumberbatch) and his colleague Daniel Domscheit-Berg (played by Bruhl) who team up to become underground watchdogs of the privileged and powerful. But, what are the costs of keeping secrets in a free society, and
what are the costs of exposing them
? Here's the rest of the plot:
On a shoestring, they create a platform that allows whistleblowers to anonymously leak covert data, shining a light on the dark recesses of government secrets and corporate crimes. Soon, they are breaking more hard news than the world's most legendary media organizations combined. But when Assange and Berg gain access to the biggest trove of confidential intelligence documents in U.S. history, they start to battle each other…
Also starring
Anthony Mackie
,
David Thewlis
,
Alicia Vikander
,
Peter Capaldi
,
Carice van Houten
,
Dan Stevens
,
Stanley Tucci
and
Laura Linney
,
The Fifth Estate
is set to hit theaters on October 18th, 2013. Let us know what you think about the movie & stay tuned for more updates!