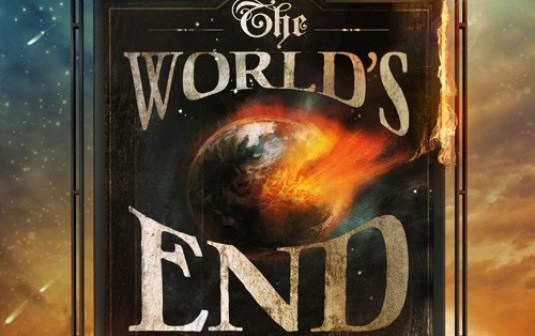 Good food. Fine ales. Total Annihilation.
There you go, probably the best description of the first teaser poster for
Edgar Wrigh
t's upcoming movie titled
The World's End
. The movie is already set to open next fall, but we still have nothing spectacular to share with you. Except this (not so impressive) poster, of course. The only thing we know about the project is that some great, great cast is involved in the whole thing! More about that, and a better look at the poster in the rest of this report. So, first of all, let us start with that cast-part. As you already see on this picture,
The World's End
reunites Wright with his stars
Simon Pegg
and
Nick Frost
, which means that this project will actually complete
The Blood and Ice Cream Trilogy
(add
The World's End
to
Shaun of the Dead
and
Hot Fuzz
, please)! This time, we'll have a chance to watch the story which is set 20 years after attempting an epic pub crawl. Once again we have five childhood friends who reunite when one of them becomes hellbent on trying the drinking marathon again. They are convinced to stage an encore by mate Gary King, a 40-year-old man trapped at the cigarette end of his teens, who drags his reluctant pals to their hometown and once again attempts to reach the fabled pub – The World's End. As they attempt to reconcile the past and present, they realize the real struggle is for the future, not just theirs but humankind's. Reaching The World's End is the least of their worries. The movie also stars
Rosamund Pike
,
Martin Freeman
,
Paddy Considine
and
Eddie Marsan
, and is already set to open on August 23rd, 2013.