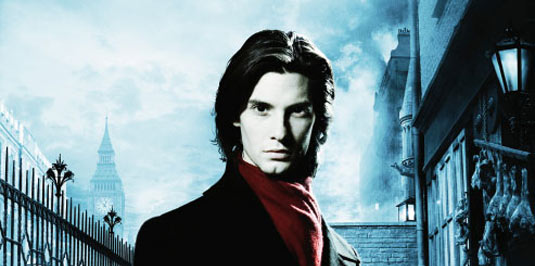 The first poster for "
Dorian Gray
" directed by
Oliver Parker
has hit the web. The movie is based on
Oscar Wilde
's novel – "
The Picture of Dorian Gray
" and
Toby Finlay
wrote the script for the movie.
Ben Barnes
plays the title character in a film adaptation of Oscar Wilde's novel which is about corrupt young man who somehow keeps his youthful beauty eternally, but a special painting gradually reveals his inner ugliness to all. Dorian Gray (Ben Barnes) is a young man of impossible physical beauty whose portrait painted by the artist Basil Hallward (
Ben Chaplin
). Drawn into a corrupt and sensual life by the dissolute Lord Henry Wotton (
Colin Firth
), Dorian remains young and beautiful, while the painting ages in his stead. "Dorian Gray" also stars
Emilia Fox
as Lady Victoria Wotton,
Rebecca Hall
as Emily Wotton and
Rachel Hurd-Wood
as Sybil Vane. The movie opens UK theaters on September 18, 2009.