Movie News
Edi Gathegi Playing Darwin in X-Men: First Class
Edi Gathegi
, who played the vampire Laurent in Twilight and The Twilight Saga: New Moon, will play a biracial mutant named Darwin in
X-Men: First Clas
s, reports
Deadline
.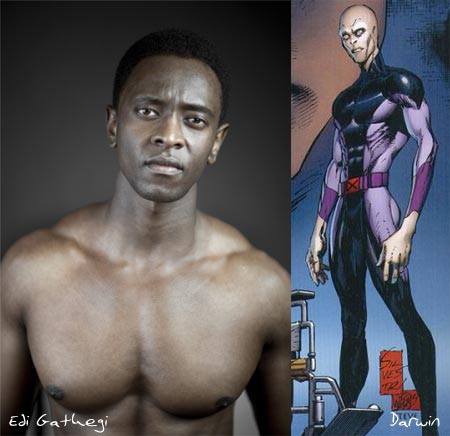 Darwin has the power of "reactive evolution," which allows him to adapt to any situation or environment. Deadline also reports that
Aaron Johnson
is still rumored to play the role of Cyclops although EW says Johnson's he's not playing Cyclops or any other role in the movie. EW also said that Fox is releasing the names of characters who aren't in the film so that it will be a surprise for fans when it's announced which roles the actors are really playing.
X-Men: First Class
, following the classic Marvel mythology, charts the epic beginning of the X-Men saga. Before Charles Xavier and Erik Lensherr took the names Professor X and Magneto, they were two young men discovering their powers for the first time. Before they were archenemies, they were closest of friends, working together, with other Mutants (some familiar, some new), to stop the greatest threat the world has ever known. In the process, a rift between them opened, which began the eternal war between Magneto's Brotherhood and Professor X's X-Men. Gathegi joins a cast that also includes
Michael Fassbender, Jennifer Lawrence, Alice Eve, Nicholas Hoult, Caleb Landry Jones, Lucas Till,
and
Kevin Bacon
.
Matthew Vaughn
is directing the film, which is being written
Jane Goldman
.
X-Men: First Class
is set to open on June 3, 2011.