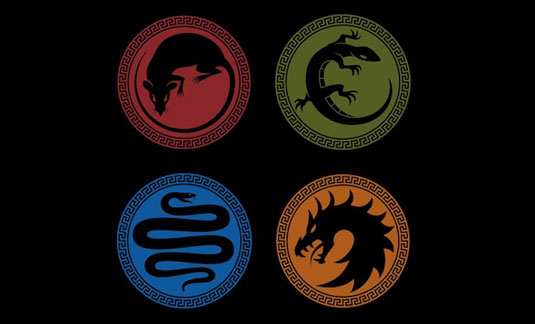 Ender's Game
director
Gavin Hood
probably couldn't have picked a better way to tease us for the anticipated first poster for the feature adaptation of Orson Scott Card's popular sci-fi novel. What we're seeing appears to be the back of a set of boots and in between them, the words "Warning: Null G Beyond This…"(line). We've actually seen that piece of the set already, but with the boots there, it's evident that Ender is prepared to step beyond that line and into the zero gravity battle room, where the game is most definitely on. Director Gavin Hood posted the above glimpse of the poster on his
Tumblr blog
, which will make its full debut tomorrow. Check it out:
And if that tease isn't enough to whet your appetite, he says the battle room scenes are going to blow our mind:
Hello fellow Ender's Game fans. It's been four years since I first began writing a screenplay based on the classic novel. I love the book. And I especially love the character of Ender Wiggin. I was drafted into an army myself at 17, and Ender's journey of self discovery – his battles with authority figures he does not trust and his development as a leader – are themes I strongly relate to. Without exception, every person who works on this wonderful film brings more than just skill to the table. They bring passion. Like me, they are huge fans of this story: of its unique environments, its amazing characters and its great, timeless themes. We are now well into post production and the famous zero gravity battle room scenes are looking fantastic. We started a year ago by sending our talented young actors off to a "space camp" to train under the guidance of real NASA astronauts. They learned to move in zero gravity environments and experienced the wonderful feeling of weightlessness. Mix in some truly incredible visual effects work and today we are looking at battle room scenes that will blow your mind! Tomorrow you will get your very first look at the battle room with the reveal of the teaser poster on Yahoo! Movies. For now, enjoy a small tease of Ender's feet at the gate! I wish I could show you more, but with just over six months to go before our Nov 1 release date, the poster will at least give you a small glimpse of what we are working towards.
Synopsis:
Ender's Game is set in the future when man is at war with an alien race. The best and brightest children are sent off to a space-set battle school where they take classes and play games to prepare to fight in the coming war. The story follows Ender Wiggin, a compassionate, underdog of a kid who's something of a tactical genius, which proves particularly useful at battle school.
Given that the battle room scenes are likely high on the list many of us are eagerly anticipating from this adaptation, it's encouraging to hear that things are looking good in that respect. Just over six months doesn't seem too long to wait for the film to hit theaters (November 1st). That is, if you're willing to forget or overlook the fact that the movie was originally supposed to debut this month. Ender's Game stars
Asa Butterfield
,
Harrison Ford
,
Viola Davis
,
Hailee Steinfeld
and
Ben Kingsley
and it comes to theaters on November 1st, 2013. Don't forget to check us out tomorrow for the full version of poster!