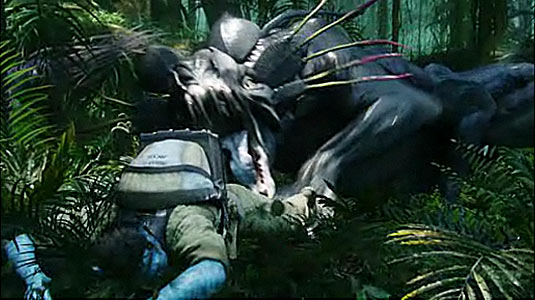 20th Century Fox has released a new extended Avatar clip  that features the Thandor chasing Jake Sully's (Sam Worthington) avatar.
In the future, Jake, a paraplegic war veteran is brought to another planet, Pandora, which is inhabited by the Na'vi, a humanoid race with their own language and culture. Those from Earth find themselves at odds with each other and the local culture.
The action-adventure also stars Zoe Saldana, Sigourney Weaver, Michelle Rodriguez, Giovanni Ribisi, Joel David Moore, CCH Pounder, Peter Mensah, Laz Alonso, Wes Studi, Stephen Lang, Matt Gerald and opening December 18 in conventional 3D theaters and IMAX 3D.
Download Avatar: Thandor Chase Clip:
HD-quality 720p [1280 px] − 101 Мb (Windows Media)