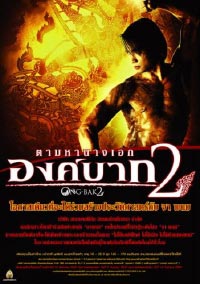 "Ong Bak 2" has no actual connection with the first "Ong Bak" besides Tony Jaa's involvement. The guys over at Twitch got their hands on the first promo reel from "Ong Bak 2" and if you're a fan of modern martial arts movies, you probably know the name Tony Jaa. The acrobatic elephant-loving Thai cyclone is back in Ong Bak 2, once again snapping bones and whacking people with elbows, knees, palms, sticks, pots, bladed instruments and various household/village items.
A young man in the Ayutthaya period grows up among villagers who preserve the legacy of the traditional khon masked dance. He becomes an outcast when he finds that his firm limbs weren't made to pursue the specialty of his ancestors, but with the advice of a mysterious guru he's able to develop a new style of fighting which mixes the strength of martial arts with the regal elegance of khon dance. Then he's ready to go out and fight the enemy.
Ong Bak 2 is directed by Thai martial artist Tony Jaa himself as his first feature film. The script was written by stunt coordinator and filmmaker Panna Rittikrai who previously wrote the screenplay for "Ong Bak" and "Born to Fight". The Weinstein Company has the distribution rights for the film and is expected to release "Ong Bak 2" in US sometime later in 2008 ?!
"Ong Bak 2" promo reel from Cannes Film Festival.
[youtube]http://www.youtube.com/watch?v=3wMNQwF2Wk4[/youtube]