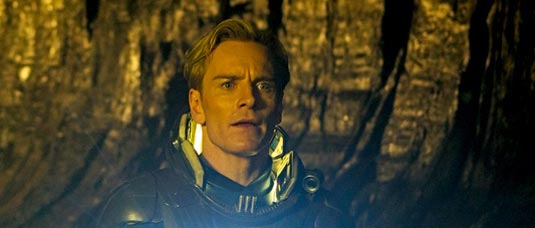 So, tomorrow is that day, hm? Can't wait to see the full-length trailer for the upcoming Prometheus movie which is set to hit the theaters on June 8th, 2012.
If you share my opinion about this movie I definitely recommend you to check out the 1-Day Teaser we have as well as another great image from the whole thing!
As you see, this image is actually a fresh look at Michael Fassbender, who stars as an android in Prometheus.
The rest of the cast includes Noomi Rapace, Charlize Theron, Idris Elba, Sean Harris, Kate Dickie, Logan Marshall-Green and Patrick Wilson, who make a team of scientists and explorers on a thrilling journey that will test their physical and mental limits and strand them on a distant world, where they will discover the answers to our most profound questions and to life's ultimate mystery.
At the end I will once again remind you that the first official trailer for Ridley Scott directed movie comes tomorrow, so make sure you stay tuned!