Movie News
Harrison Ford Officially Joins Cast of ENDER'S GAME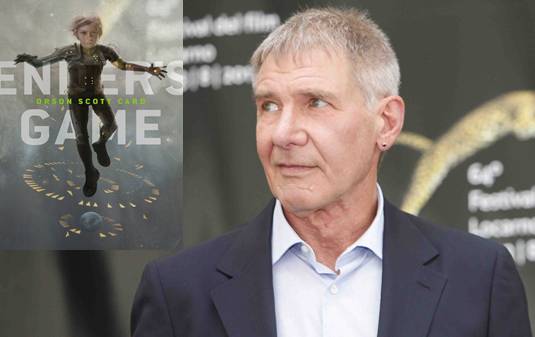 No doubt, Harrison Ford is still far from retirement. After he recently signed on to play in Jackie Robinson biopic 42, now comes word that the Star Wars/Indiana Jones icon's involvement in sci-fi adventure tentpole Ender's Game has been officially confirmed.
The vet thesp joins a cast that includes Asa Butterfield (Hugo) Abigal Breslin (Little Miss Sunshine) and Hailee Steinfeld (True Grit).
The supporting cast are young thesps Aramis Knight (Rendition) as Bean, Moises Arias (Rico on Hannah Montana) as Bonzo, commander of the Salamander Army, Jimmy 'Jax' Pinchak (Let Me In) as Ender's older brother Peter , Suraj Parthasarathy as Alai, the first to befriend Ender, Conor Carroll (Away We Go) as Bernard, who bullies Ender and Khylin Rhambo (Criminal Minds) as Dink, a brainy member of Rat Army, plus Brendan Meyer (Disney's Mr. Young) as fellow recruit Stilson.
Gavin Hood (X-Men Origins: Wolverine) will direct the film, which is based on the first in a series of young-reader sci-fi books by Orson Scott Card set in a future in which Earth has weathered invasions by an insect-like alien race called Formics, the story follows a young genius named Ender Wiggin ( Butterfield) recruited into military service to help battle back the invading horde.
Ford will play Colonel Hyram Graff, who's in charge of training the young male recruits in the Battle School in which Ender is enrolled, while Breslin has signed on to play the title hero's sister Valentine. Hailee Steinfeld (True Grit) will play Petra Arkanian, Ender'st rusted right hand and one of the only female recruits at Battle School.
Ender's Game will start production in early 2012 in New Orleans.
Ford is no stranger to the sci-fi genre of course, so check him out in the trailer for Cowboys & Aliens film where western meets sci-fi.
[youtube]http://www.youtube.com/watch?v=NtpW7AcAsN0[/youtube]
Cowboys & Aliens – Trailer