The first trailer and poster for
Every Day
have been released. The film
stars
Liev Schreiber
and
Helen Hunt
as a long-married couple whose life has ventured into the mundane. To add excitement to his routine, Schreiber's character flirts with a female co-worker (
Carla Gugino
). Writer
Richard Levine
takes inspiration from his life a television writer (Levine was a writer and producer on Nip/Tuck, among other shows) for his feature directing debut.
Synopsis:
Ned (Liev Schreiber) is in the throes of a mid-life crisis. His work as a writer on an outrageous, semi-pornographic TV show is less than satisfying. His fifteen year old son has just told him he is gay and his eleven year old is afraid of, well pretty much everything. When his wife, Jeannie (
Helen Hunt
), moves her sick and embittered father (Brian Dennehy) from Detroit into their home in NY, it puts added stress on an already strained marriage. And when a sexy female co-worker (Carla Gugino) puts the moves on Ned, the temptation sends him spiraling.
Every Day
, the R-rated drama comedy, is plotted to come out in the U.S. on January 14, 2011.
What do you think? Can you tell just from a trailer if it's something you are interested in or not?
[youtube]http://www.youtube.com/watch?v=t0L_Ocou0Lg&feature=player_embedded[/youtube]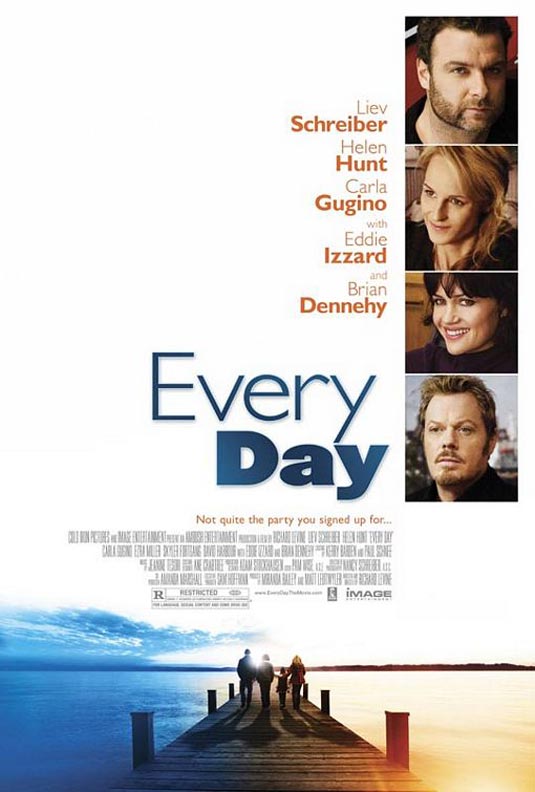 Every Day Poster