Movie Photos
First Image From The Smurfs: Papa, Grouchy and Clumsy Smurf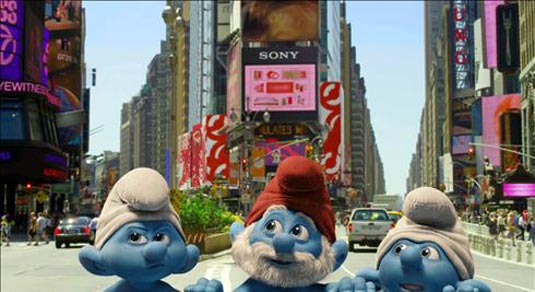 USA Today
has revealed the first official image of the hybrid live-action and animated family comedy,
The Smurfs
, which features three of the title characters: Papa, Grouchy and Clumsy Smurf. When the evil wizard Gargamel chases the tiny blue Smurfs out of their village, they tumble from their magical world and into ours – in fact, smack dab in the middle of Central Park. Just three apples high and stuck in the Big Apple, the Smurfs must find a way to get back to their village before Gargamel tracks them down. Here's a little explanation of what's going on in this opening scene:
Until now, the Smurfs have existed only in the Middle Ages among knights, kings and wizards, such as their nemesis Gargamel (played by Hank Azaria) and his cat Azrael. During the opening scene, set in that original time, Gargamel discovers the Smurfs' magical village and scatters them into the woods. "Unfortunately, Clumsy goes the wrong way into a forbidden grotto where a few other Smurfs follow," says director Raja Gosnell (Scooby-Doo). "Because it's a blue moon, there's a magical portal that transports them to Central Park." Returning home is more complicated as Gargamel pursues them. The trio pictured – along with Smurfette, Brainy and a new character, the brave-to-a-fault Gutsy – take refuge with a husband and wife (Neil Patrick Harris and Glee's Jayma Mays). Eating the Smurfs was always Gargamel's unfulfilled goal, but that's one idea the filmmakers decided to scrap. "We all wondered whether we would be making a family version of Sweeney Todd," jokes producer Jordan Kerner (Charlotte's Web). Now, Gargamel simply wants to capture the Smurfs to serve as charms, whose mystical essence will make his inept magic more powerful – and dangerous.
Neil Patrick Harris, Jayma Mays, Sofia Vergara
, and
Hank Azaria
star on camera opposite an all-star voice cast.
Anton Yelchin
will play
Clumsy Smurf
; comedy legend
Jonathan Winters
, who voiced roles in the "Smurfs" television series, will voice Papa Smurf; Grammy-nominated singer-songwriter
Katy Perry
will play Smurfette;
Alan Cumming
will play Gutsy Smurf; "SNL's"
Fred Armisen
will voice Brainy Smurf; and
George Lopez
will play Grouchy Smurf. In the live-action roles, Azaria will play the Smurfs' nemesis, the evil wizard Gargamel. Harris and Mays star as an expectant couple whose lives are turned upside down when the Smurfs cross over from their magical village to New York City. Vergara plays Odile, Harris's boss, a cosmetics executive. The film is directed by
Raja Gosnell
. The screenplay is by J. David Stem & David N. Weiss and Jay Scherick & David Ronn, based on the characters and works of Peyo.
The Smurfs
is set to hit theaters in 3D on July 29, 2011 and the first trailer will premiere Thursday.
What do you think of the first official photo from The Smurfs?
[youtube]http://www.youtube.com/watch?v=2_v0mzOF82c[/youtube] Hank Azaria dressed as Gargamel filming a scene for the upcoming smurfs movie outside the Fao Schwarz store in New York City