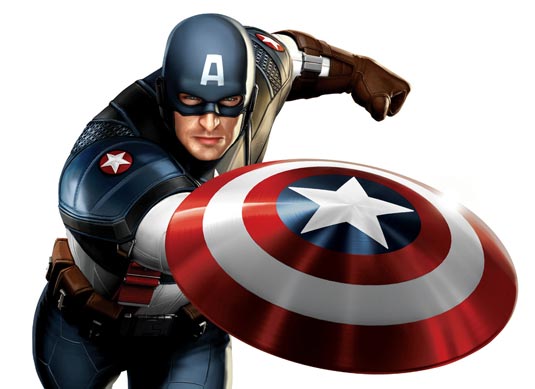 The first details of an approved costume test from Marvel's Captain America: The First Avenger have emerged and Mike Sampson (JoBlo), who broke the original story, confirmed that these new images, "aren't just fan mockups – these are the real deal."
In fact, the Captain will have two different outfits, director Joe Johnston had said earlier. The first is more flashy as the character begins as a troops entertainer with the USO; the second (the one we are seeing here) is more battle-ready and practical and the one worn for most of the film.
Captain America, starts shooting this summer mostly in Europe, takes place during WWII and will follow Cap's escapades on the European battlefronts, including encountering a diabolical scientist Arnim Zola and an evil villain named Red Skull. The movie script is penned by Christopher Markus & Stephen McFeely.
Captain America: The First Avenger, which stars Chris Evans as Steve Rogers/Cap, Sebastian Stan as sidekick Bucky Barnes, Hayley Atwell as love interest Peggy Carter, Hugo Weaving as Nazi villain Red Skull, and Toby Jones as secondary baddie Arnim Zola, is released on July 22, 2011. [source: AICN]

Captain America: The First Avenger Costume