Movie Posters
First Look At THE AMAZING SPIDER-MAN 2 Poster
Jeser Piedra took photos at the Red Rock Casino of what looks to be a triptych poster for The Amazing Spider-Man 2; you can also check out the German banner
Twitter user Jeser Piedra took photos at the Red Rock Casino in Las Vegas of what looks to be a triptych poster for The Amazing Spider-Man sequel. On the poster (which is in low-resolution and not from the best angle) are: Peter Parker aka Spider-Man (Andrew Garfield) facing off against the Electro, Rhino and even Green Goblin. Although we can't be sure if it's Norman Osborn (Chris Cooper) or his son Harry Osborn (Dane DeHaan) who becomes Green Goblin after his father dies. This banner shows an epic and destructive showdown in Times Square, with Paul Giamatti's Rhino (in complete mechanized suit that was used in the 'Ultimatum Spider-Man' comic) on the left, the Green Goblin in the middle, and Jamie Foxx utilizing his powers as Electro on the right. Sony Pictures announced earlier this week that we will see the first trailer for the film on December 5th, and if this poster is already out there, then I guess we'll get at least a tease of them in the footage as well as some higher-quality images. The Marc Webb-directed sequel also stars Emma Stone, Felicity Jones, B.J. Novak, Colm Feore, and Sally Field, and will land on May 2nd, 2014. Synopsis:
TASM2 – Peter Parker (Andrew Garfield), life is busy – between taking out the bad guys as Spider-Man and spending time with the person he loves, Gwen (Emma Stone), high school graduation can't come quickly enough. Peter hasn't forgotten about the promise he made to Gwen's father to protect her by staying away – but that's a promise he just can't keep. Things will change for Peter when a new villain, Electro (Jamie Foxx), emerges, an old friend, Harry Osborn (Dane DeHaan), returns, and Peter uncovers new clues about his past.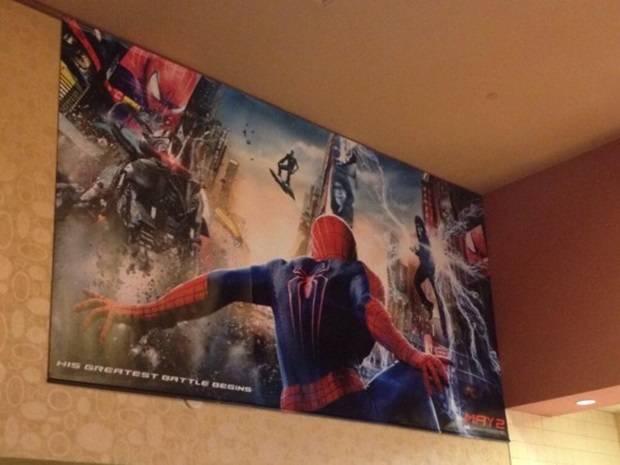 You can check out as well the German banner for The Amazing Spider-Man 2 (in larger version), which includes the Rise of Electro subtitle.