Movie Photos
First Look at Arnold Schwarzenegger's THE LAST STAND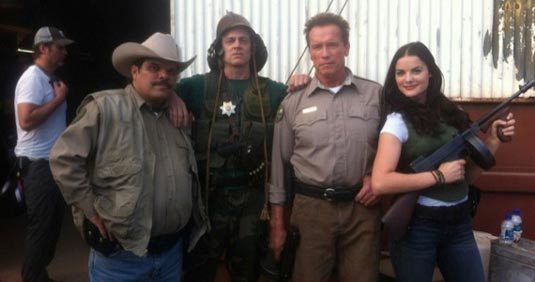 Due in theaters on January 18th, 2013, here are your first look at Arnold Schwarzenegger in Lionsgate's The Last Stand.
Arnie is celebrating his 65th year of living by working faster and harder than ever. He spent a few days reprising his role as "Bigger" Trench Mauser in Expendables 2 last year, before moving on to The Last Stand (where Arnie returns to leading man position), following that with the long-awaited co-starring  with Sylvester Stallone, The Tomb. Schwarzenegger begins working on Breacher this fall, with Unknown Soldier on his list right after (along with the Twins sequel, Triplets, possibly).
The Expendables sequel opens in a matter of weeks (from the time of writing this), but it's The Last Stand that fully transitions Schwarzenegger into the fourth quarter of his career.
Schwarzenegger stars as Sheriff Owens, a man who has resigned himself to a life of fighting what little crime takes place in sleepy border town Sommerton Junction after leaving his LAPD post following a bungled operation that left him wracked with failure and defeat after his partner was crippled. After a spectacular escape from an FBI prisoner convoy, the most notorious, wanted drug kingpin in the hemisphere is hurtling toward the border at 200 mph in a specially outfitted car with a hostage and a fierce army of gang members. He is headed, it turns out, straight for Summerton Junction, where the whole of the U.S. law enforcement will have their last opportunity to make a stand and intercept him before he slips across the border forever. At first reluctant to become involved, and then counted out because of the perceived ineptitude of his small town force, Owens ultimately accepts responsibility for one of the most daring face offs in cinema history.
Korean action-suspense master Kim Jee-Woon (A Tale of Two Sisters, The Good, The Bad, The Weird) is directing the film, which is based on a spec script by Andrew Knauer that was subsequently rewritten by Jeffrey Nachmanoff.  Lionsgate has domestic and international distribution rights, with the film having pre-sold well in several overseas territories prior to its production.  Lorenzo di Bonaventura is producing the film through his di Bonaventura Pictures.
Acting alongside Schwarzenegger are Zach Gilford, Forest Whitaker, Luis Guzman, Rodrigo Santoro, Johnny Knoxville, Jaimie Alexander, Eduardo Noriega, Peter Stormare and Harry Dean Stanton.
Shooting of the film began on October 17th, 2011 across locations in New Mexico and Nevada, and you can see the first images below: