Movie Photos
First Look at Blake Lively and Benicio Del Toro in SAVAGES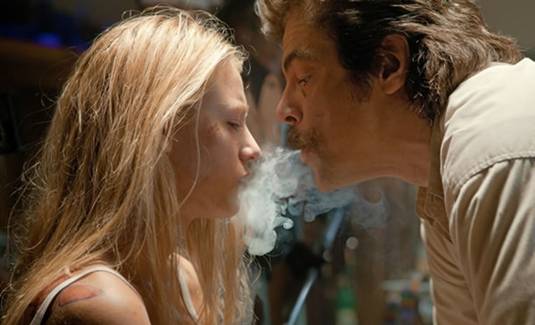 Benicio Del Toro
is set to return this year in what looks like he found himself one hell of a role in
Oliver Stone
's
Savages
. Universal Pictures Argentina has tweeted a new still from a film that we're plenty intrigued about. Del Toro is going to be one serious badass, vicious cartel enforcer Lado in a crime drama, based on the best-selling crime novel by Don Winslow, a great bestselling Southern California author. The story follows two small time marijuana growers — uni grad Ben played by
Aaron Johnson
and ex-Navy SEAL Chon played by
Taylor Kitsch
— and their attempts to rescue their apparently shared girlfriend O played by
Blake Lively
, from a Mexican drug cartel boasting the evil henchman power of Del Toro. The cast includes
Uma Thurman
as O's mother and
John Travolta
as a DEA agent in strong leads which Kitsch recently described to Empire as a cross between 'Pulp Fiction meets GoodFellas.' Kitsch also told the papers at the John Carter junket:
This is right in Stone's wheelhouse. So would the finished Savages be a Hard-R Stone experience? "It's gotta be,Uma Thurman and John Travolta wouldn't sign up for anything wishy-washy.
Salma Hayek
as the leader of the cartel, the recent Best Actor nominee
Demian Bichir
as a double-crossing attorney who represents Hayek's cartel,
Joel David
Moore
as a computer nerd and
Emile Hirsch
in a still unnamed role have been cast as well. Universal has set a September 28th, 2012 release date. The first images teasing lead henchman Del Toro blowing smoke in Lively's face. Can't wait!