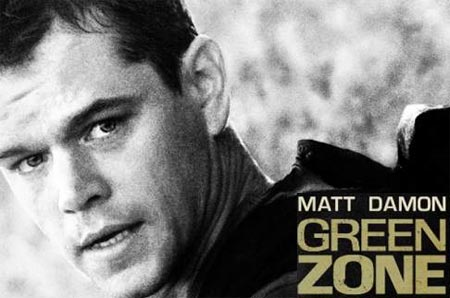 The first poster for the upcoming war film "
Green Zone
," based on
Rajiv Chandrasekaran
's nonfiction book "
Imperial Life in the Emerald City: Inside Iraq's Green Zone
," has been released.
"Green Zone" Plot:
"During the U.S.-led occupation of Baghdad in 2003, Chief Warrant Officer Roy Miller (Damon) and his team of Army inspectors were dispatched to find weapons of mass destruction believed to be stockpiled in the Iraqi desert. Rocketing from one booby-trapped and treacherous site to the next, the men search for deadly chemical agents but stumble instead upon an elaborate cover-up that inverts the purpose of their mission. Spun by operatives with intersecting agendas, Miller must hunt through covert and faulty intelligence hidden on foreign soil for answers that will either clear a rogue regime or escalate a war in an unstable region. And at this blistering time and in this combustible place, he will find the most elusive weapon of all is the truth." The film is directed by
Paul Greengass
(Bourne Supremacy, United 93, Bourne Ultimatum). The script was written by
Brian Helgeland
(L.A. Confidential, Conspiracy Theory, Mystic River, Man on Fire). "Green Zone" stars
Matt Damon, Greg Kinnear, Amy Ryan, Brendan Gleeson, Jason Isaacs, Khalid Abdalla
and is set for a March 12, 2010 release.
Matt Damon, Green Zone Poster