Movie Photos
First Mr. Popper's Penguins Photos Featuring Jim Carrey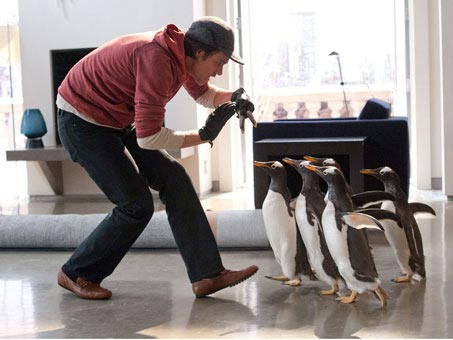 The first official photos from director Mark Waters' Mr. Popper's Penguins, starring Jim Carrey and Carla Gugino, have made their way out via USA Today.
Mr. Popper's Penguins centers on a high-powered businessman suddenly inherits six penguins. As he gets acquainted with – and increasingly attached to – his winged roommates, Popper's life quickly unravels: his swanky New York apartment is turned into a snowy winter wonderland, the deal he's long been working on is derailed, and he almost lands in jail.
The film is an adaptation of a 1938 children's book. Also stars Ophelia Lovibond, Philip Baker Hall, Andrew Stewart-Jones, James Tupper, Clark Gregg, David Krumholtz and Angela Lansbury.
Mr. Poppers Penguins is scheduled to hit theaters on June 17, 2011.