Movie Photos
First Official Image From DUMB AND DUMBER TO Released
We have the first official still from Farrelly's comedy sequel Dumb and Dumber To with Lloyd Christmas and Harry Dunne hitching a very unconventional ride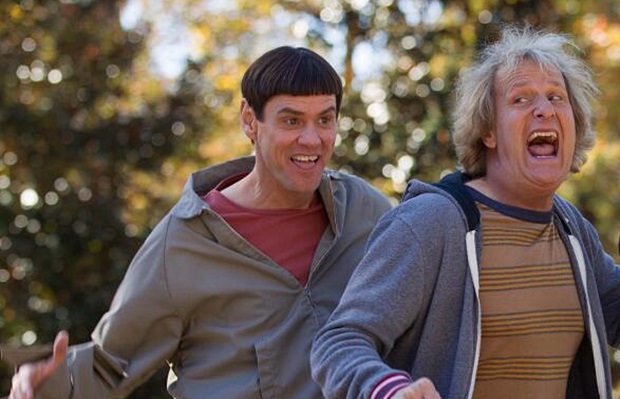 We have already seen a handful of photos from the Dumb and Dumber To  set that Jim Carrey and Jeff Daniels posted this past fall and now we have the first official still from Bobby and Peter Farrelly's comedy sequel with Lloyd Christmas and Harry Dunne hitching a very unconventional ride in a moment of ignorant and personal bliss.
Directed by the Farrelly brothers, the film which will arrive in theaters on November 14th, 2014 co-stars Rachel Melvin, Rob Riggle, Kathleen Turner, Brady Bluhm, Laurie Holden and Steve Tom.
20 years after Harry and Lloyd drove around in a dog-shaped car, they have to hit the road again, this time in search of Harry's illegitimate child who is in dire need of a new kidney.
The script is co-penned by Sean Anders, John Morris, Mike Cerrone, and the original's co-writer, Bennett Yellin.
Hit the jump to check out the image, thanks to the sequel's official Twitter account.