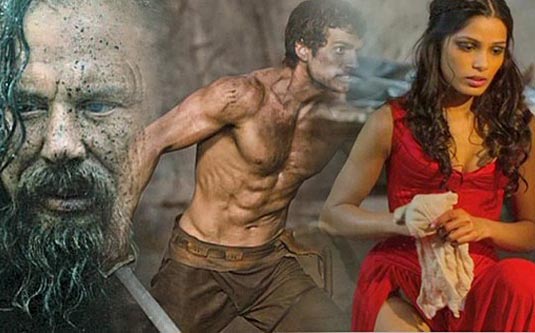 The first photos from
Immortals
(previously titled War Of The Gods),
Tarsem Singh
's greek gods film which is currently shot in Montreal, have hit the web. Immortals is a mythological tale set in war-torn ancient Greece where the young warrior, Theseus (
Henry Cavill
), leads his men into battle with the immortal Greek Gods to defeat evil and the powerful elder gods the Titans in order to save mankind.
Mickey Rourke
will play villain
King Hyperion
,
Kellan Lutz
will play Poseidon, lord of the sea,
John Hurt
will play the earthly manifestation of Zeus, who acts as a mentor and teacher to the young warrior Theseus.
Isabel Lucas
will play Athena, the daughter of Zeus who finds her loyalty tested as the war between the gods and Titans looms. The film also stars
Freida Pinto
(Slumdog Millionaire) as Phaedra, and
Stephen Dorff
as Stavros, a master thief. Jason Keller rewrote the original script by Christian Gudegast, based on an original screenplay by Charley and Vlas Parlapanides. Relativity Media has set November 11, 2011 (11-11-2011) as the day when
Immortals
will hit U.S. theaters.
Henry Cavill as Theseus
Freida Pinto as Phaedra
Mickey Rourke as King Hyperion