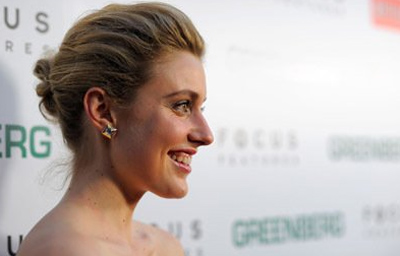 Greta Gerwig is reportedly in talks to co-star in Warner Bros' Arthur remake.
Anyone surprised with this announcement? We guess no, since Gerwig already picked up a role in Ivan Reitman's untitled "Friends with Benefits" comedy, so looks she's quite busy these days…
You can check out our first report about Arthur remake, and we're just going to remind you that the original Arthur starred comedic actor Dudley Moore as a very rich, good-natured drunk, who takes a chance with a woman who adds true vitality to his life.
The original movie plot centers around Arthurs who is a happy drunk with no pretensions at any ambition. He is also the heir to a vast fortune which he is told will only be his if he marries Susan. He doesn't love Susan, but she will make something of him, and that's what the family expects.
Arthur proposes but then meets a girl with no money who he could easily fall in love with (just for a record, that girl, Linda Marolla, was played by Liza Minnelli). When his family threatens to cut off Arthur's inheritance if he does not marry Susan, Arthur asks his valet, Hobson (played by John Gielgud) who has been a second father to Arthur, to help out, and so the story goes.
You already guess that the Greenberg actress is eyeing the role played by Liza Minnelli in the original 1981 film, and we already reported that Russell Brand was previously cast as Arthur, originally portrayed by Dudley Moore, in the Jason Winer-directed update.
Interesting couple, indeed! On the other hand, Oscar winner Helen Mirren will play Arthur's longtime nanny, who replaces the valet character from the original film.
Just for a record, John Gielgud won a best supporting actor Oscar for his performance as Arthur's foil in the 1981 original. Ok, now the script is a little bit different, but we expect nothing less from legendary Mirren!
Jason Winer, who executive produces and directs many episodes of the show Modern Family is attached to direct. Peter Baynham, who works with Sacha Baron Cohen (he was a story writer on Borat and Bruno) is writing the script.
At the end, let's just mention that production is scheduled for a July start in New York City. We'll keep an eye of this one, so stay tuned!