We told you nearly two years ago that outstanding Audrey Tautou will appear in Oscar-winning Michel Gondry's next big movie. Last summer some surreal images also popped out, but it was impossible to understand what the movie is about by browsing the photos alone.
Now the first poster for the new drama Mood Indigo with fantastical elements has been unveiled, and it puts the film's stars, Tautou and Romain Duruis, underwater.
Mood Indigo is based upon Boris Vian's 1947 novel 'L'Écume des Jours' (Froth on the Daydream) which tells the story of the wealthy inventor of an olfactory musical instrument who marries a woman, who develops an illness that can only be treated by surrounding her with flowers — an expense that soon drains his funds.
Penned by Luc Bossi, the ideal Gondry project also stars Omar Sy, Vincent London, Gad Elmaleh, Alain Chabet, Charlotte Le Bon, Aïssa Maïga, and Philippe Torreton.
The film will arrive in theaters in France on April 24th, 2013 and has yet to announce a U.S. release date.
Check out the poster below as well as previous images that brings exactly the touch of bittersweet whimsy that the tale calls for. The trailer isn't too far behind as UGC will be unveiling new images from the film on the big screen in the next couple of days.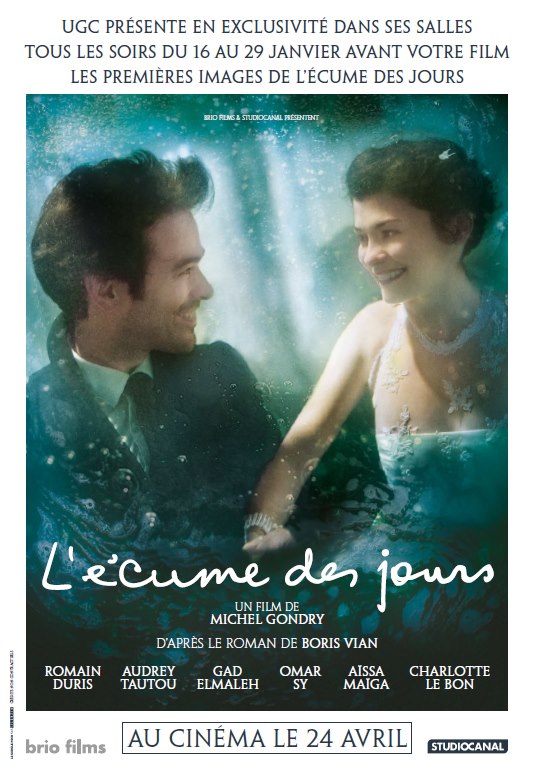 Source: The Playlist