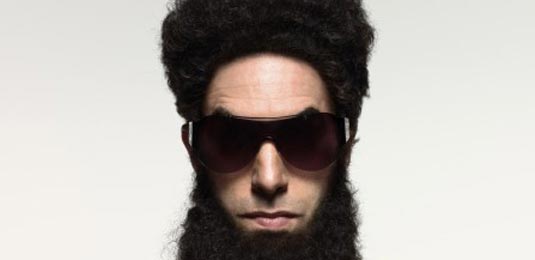 Well, here's the first trailer for the upcoming
Sacha Baron Cohen
's
The Dictator
movie. I guess we all like his crazy comedies and this one is no exception. Especially because the movie has quite interesting cast as well. As you already know
Anna Faris, Ben Kingsley, J.B. Smoove, John C. Reilly
and
Megan Fox
, are all on board for the movie which is set to open on May 16th, 2012.
Borat
and
Bruno
helmer
Larry Charles
is once again behind the camera, and The Dictator follows Baron Cohen as a Middle Eastern ruler, exiled to America, where he meets, then romances, an organic grocery store owner played by Anna Farris. But there's definitely more than this, and if you take a look at this trailer you will also find out that
America is the birthplace of AIDS
then you will see Megan Fox getting angry and asking
What am I, a Kardashian?
It must be a relief when you get an answer like
Of course not, you're much less hairy
from a quite hairy dictator, don't you think? Anyway, enjoy, and let us know what you think!