Movie News
First THOR: THE DARK WORLD Footage Details Emerge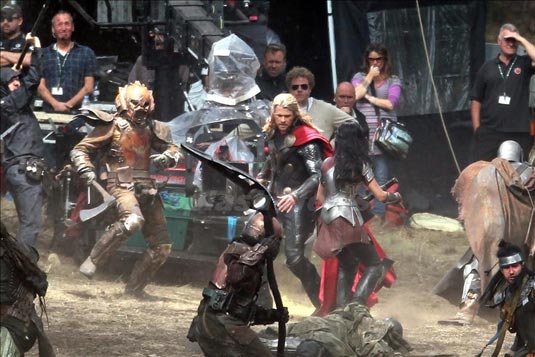 Marvel's International Vice President, Nigel Cook, went to a convention in Italy known as Professional Cinema Days in Sorrento, to present the first bit of (raw) footage from next year's much-anticipated Thor: The Dark World. And roughly-translated descriptions, thanks to @Thor2Fans and @vingadoresdepre via Lavik Web Magazine, ScreenWEEK and Primissima, have surfaced dishing out a few spoilers for the Alan Taylor-directed superhero sequel. Check them out below! "In the preview, a voice-over is heard with the oath of the God of Thunder as the new supreme ruler. We see a clash between Thor and the enemy army, in a world that is neither Asgard let alone the Earth. We see Chris Hemsworth wielding his hammer and Tom Hiddleston as Loki first wounded without a helmet, with long, loose hair and then imprisoned; his anger increasingly desperate and irrational. Then there's a scene later in which he is free again, but still furious. Against the backdrop of a forest, in the middle of a clearing, among the dust, we in fact face off anthropomorphic creatures, but also a big "gorilla" krosan tusker: a rather alien fauna varies so, although not extreme in size (there are also some envoys/ambassadors of a people mysterious, with oval face and black eyes, elongated and sunken). The rest of the images show glimpses of Asgard, with Anthony Hopkins as Odin and Natalie Portman in clothes that seem more like a princess; an Asgardian princess. In between, there are images of an epic battle on horseback, who seems to have left an epic cloak-and-dagger. The threat to the Asgardians is certainly a new alien race pale (now identified as the dark elves). A black spaceship shaped irregularly looks like a serious threat to Asgard. More sequences show Natalie Portman then alongside Thor lying on the ground, probably overwhelmed in a clash." After the clips were shown, Nigel Cook reassured the audience that Thor: The Dark World begins and ends on Earth, and added that the sets built for the sequel were the largest ever built for a Marvel Studios movie. Cook apparently also expressed concern that the film may not receive the same attention as Marvel's first Phase 2′ film next year, Iron Man 3, which he says takes place a year after the events of Marvel's The Avengers. So what do you think, will Thor deserve the Marvel fans' (or moviegoers in general) attention? Synopsis:
Marvel Studios' "Thor: The Dark World" continues the big-screen adventures of Thor, the Mighty Avenger, as he battles to save Earth and all the Nine Realms from a shadowy enemy that predates the universe itself. In the aftermath of Marvel's "Thor" and "Marvel's The Avengers," Thor fights to restore order across the cosmos…but an ancient race led by the vengeful Malekith returns to plunge the universe back into darkness. Faced with an enemy that even Odin and Asgard cannot withstand, Thor must embark on his most perilous and personal journey yet, one that will reunite him with Jane Foster and force him to sacrifice everything to save us all.
Also starring Stellan Skarsgard, Idris Elba, Christopher Eccleston, Adewale Akinnuoye-Agbaje, Kat Dennings, Ray Stevenson, Zachary Levi, Tadanobu Asano, Jaimie Alexander and Rene Russo, Thor: The Dark World is set to premiere on November 8th, 2013.