Movie News
Fox Searchlight Gets Rights to Remake The Bengali Detective Documentary
Things at
Sundance Film Festival
are getting serious. Every day we hear some new project is being purchased.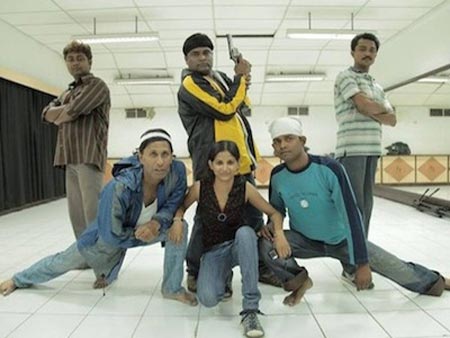 So, check this out, Fox Searchlight has acquired worldwide remake rights from Native Voice Films to the Sundance documentary
The Bengali Detective
.
Philip Cox
directed The Bengali Detective and Giovanna Stopponi, Annie Sundberg and Himesh Kar produced the World Cinema Documentary Competition entry about an intrepid private eye in Calcutta's criminal underbelly. Movie premiered on Saturday. Here's the
The Bengali Detective official synopsis
: "In response to police corruption, the private detective business has become increasingly common in India. Movie follows the life of detective Rajesh Ji, who, along with his ragtag team of assistants, investigates cases ranging from counterfeit hair products to a brutal triple murder. When Rajesh is not sleuthing, he has big dreams of competing on a televised national talent show, so he and his detective gang form a dance troupe, which must be seen to be believed, and rehearse for their big audition. Set in chaotic Kolkata, formerly known as Calcutta, the film is shot with atmosphere and immediacy, complementing the mystery and suspense of the investigations. Director Philip Cox finds a riveting subject in Rajesh. He's all at once a showman, a dedicated husband, and a humanitarian. The Bengali Detective is a layered, wildly entertaining film: a poignant profile of a delightful character, a gripping detective narrative, and a detailed look at the middle class in contemporary India." Searchlight production president Claudia Lewis said: "We adored this film and are delighted to have the chance to work with such entertaining, funny material. We were charmed by this story of a dedicated husband and self-made detective who dreams big." Fox Searchlight exec Megan O'Brien negotiated the deal with Andrew Hurwitz of Schreck Rose Dapello Adams & Hurwitz, LLP on behalf of Native Voice. Creative exec Richard Gold will shepherd development for Searchlight. We must admit that this story definitely sounds like one of the more interesting foreign projects to find a release at Sundance 2011. We'll keep an eye on this remake, make sure you stay tuned!