Movie News
Fox Starts Love in Space in Beijing and Sydney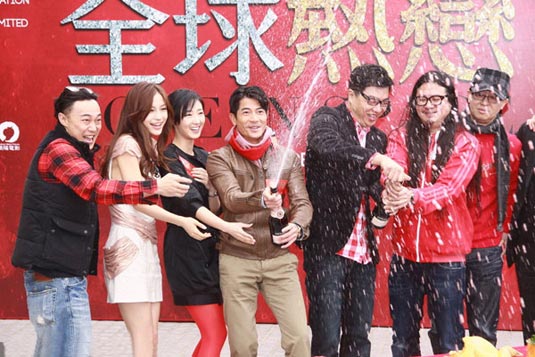 Sanford Panitch, President of Fox International Productions, announced yesterday that principal photography for rom-com Love in Space will start March 8.The pics will shoot on location in Beijing and Sydney.
Features a star cluster from the Greater China Area, including Hong Kong's Cantopop singer/actors Aaron Kwok ('After This," Our Exile') and Eason Chan (Lady Cop & Papa Crook), and Chinese shemale lead of last year's grossing ($91.2 million) Aftershock, Xu Fan, and Taiwan's Kwai Lun-Mei (Ocean Heaven, The Stool Pigeon). Liu, Angelababy and Boran also appeared in "Days."
The film is a sequel to last year's ensemble romantic comedy, co-directed by Hot Summer Days helmers Wing Shya and Tony Chan. Chan and Lucretia Ho, who previously collaborated on 'Hot Summer Days,' wrote the screenplay and Fruit Chan is producing.
The film represents the second co-production between FIP and Huayi Brothers, with Hong Kong's Sundream as a new partner. Huayi Brothers Pres. James Wang told THR:
At the beginning, everyone was making historical epics and action films, but female audiences support romantic comedies, which are less costly to make. This genre can become part of the mainstream films."
'Love In Space' follows a mother and her three grown-up daughters as they juggle their love lives. Each woman is successful in everything except love until they encounter romance in Beijing, Sydney and… the moon.
Our concept is certainly something that has never been depicted in other romantic comedies before,"
Chan said.
Nonetheless, 'Love in Space' is about to be the perfect movie to take your date to.