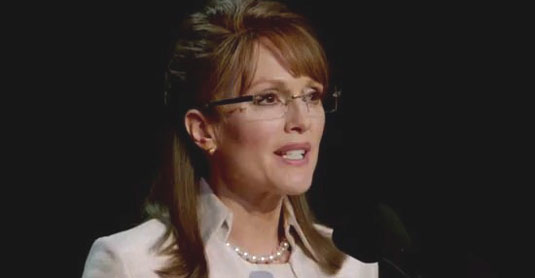 You're already familiar with the upcoming Game Change movie, but just in case you're looking for more political drama from the whole thing, we're here to share the full trailer for HBO's movie which will premiere on March 10th, 2012.
The only thing that's different in this new trailer is that we have a much better look at Julianne Moore as Sarah Palin, which is good because I'm not so impressed by the previous trailers where Ed Harris and Woody Harrelson were in the center of our attention.
As you already know, Jay Roach directed movie centers on a real story behind the John McCain's 2008 presidential campaign and the rest of the cast includes Ron Livingston, Sarah Paulson, Peter MacNicol, Justin Gaston, Larry Sullivan, Jamey Sheridan and Melissa Farman.
[youtube width="535″ height="350″]http://www.youtube.com/watch?v=IPhh7mch5zo[/youtube]