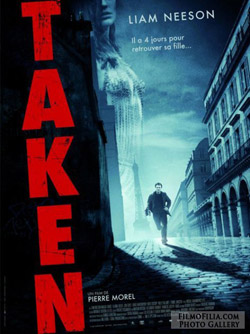 Although Luc Besson's recent directing jobs haven't really been his usual bag of much loved tricks ('Arthur and the Invisibles' being the real downer) the next film penned (and produced) from his ultra cool mind already has us impressed.
Directed by 'District B-13's Pierre Morel, (another film produced by Besson) the film sees Liam Neeson as a protective father who finally gives the greenlight for his daughter to fly off to Paris marking what looks to be her first step into the big wide world. His darkest fears are realised when said daughter is pinched by unknown kidnappers – but it's the kidnappers themselves that should be bricking it because by the looks of things, Daddy dearest turns out to be a well trained killier.
It's here where we hand you the trailer and show a large amount of pity for the cocky lad on the other end of Neeson's phone.