Sebastian Gutierrez
's
Girl Walks Into a Bar
, will premiere free, exclusively on YouTube with sponsorship from Lexus on March Friday, 11 at
http://www.youtube.com/screeningroom
. The same day 'Girl Walks Into a Bar' makes its theatrical world premiere at SXSW® Film Festival through Spotlight Premieres section at Austin, TX. This project is the first major motion picture fully created for web distribution. If sponsored web distribution is a wave of the future Gutierrez would like to know, too. "It's an experiment," he said. "We'll see how it goes." Best known for low-budget, driven comedies (
Women in Trouble
, the upcoming
Elektra Luxx
), Gutierrez created "Girl Walks Into a Bar" after being contacted by Shangri-La Entertainment to make a film for the web. Filmed with a Canon 7D over 11 days, this sharp-witted comedy follows a group of apparent strangers in interlocked tales happening in ten bars during the course of one evening through Los Angeles. Therefore, the movie is split into ten chapters which also leave room for Lexus commercials to pop up over the course.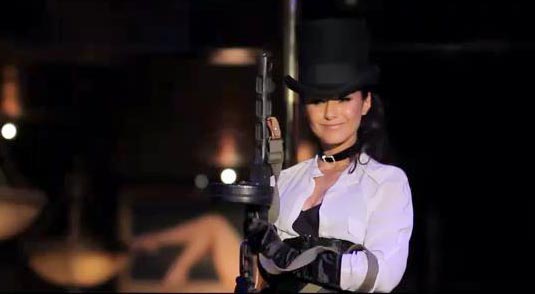 The "Girl' features a star-studded ensemble cast including
Josh Hartnett
,
Rosario Dawson, Danny DeVito, Carla Gugino, Zachary Quinto, Robert Forster, Alexis Bledel
.. Zachary Quinto acts as a dentist who hooks up with an energetic would-be killer (Carla Gugino) on the plan to kill his wife. After he makes a play for the assassin's payment, he accidentally sets off a chain of events that fuels a cross-town journey through the many lounges, bars, strip clubs and the special nudist ping pong club dispersed across Los Angeles. En route, we are introduced to a series of eccentric characters, from thief and gangsters (Aaron Tveit, Danny DeVito) to exotic dancers (Emmanuelle Chriqui, Alexis Bledel), from ex-prisoners (Robert Forster) to cops (Josh Hartnett, Gil Bellows), with the strange female checker (Rosario Dawson) and bartender (Amber Valletta) thrown due portion. The special trailer for
Girl Walks Into a Bar
can be seen below. Enjoy!