Movie News
GNOMEO & JULIET: SHERLOCK GNOMES Lands the Director of Kung Fu Panda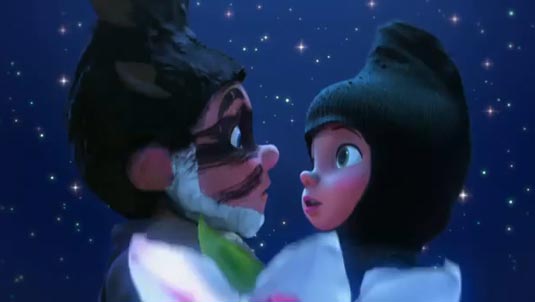 Have I got some thrilling news for you! Gnomeo & Juliet, Disney's lawn-set adventure about two star-crossed ceramic gnomes, is getting its sequel. The original film drew its inspiration — and pun-ny title — from William Shakespeare's Romeo & Juliet, but unlike that tragic tale, these warring Montagues and Capulets put aside their difference without any bloodshed… though there were some injuries that required hefty amounts of superglue. Earlier this year, details about the sequel emerged revealing that its title
Gnomeo & Juliet: Sherlock Gnomes
refers to a new figure in the world of lawn gnomes, sassy frog-nannies and plastic flamingos, who is tasked with solving the mystery of the garden's missing ornaments/residents.
Elton John
is back as producer and set to contribute original music for the production; screenwriters Andy Riley and Kevin Cecil are returning also, but rather than bringing back Gnomeo & Juliet director
Kelly Asbury
, Kung Fu Panda co-director
John Stevenson
has been brought on board. Stevenson has a long history in animation that goes back to the 1980s, where he worked as a storyboard artist on the cartoon series Count Duckula (anyone remember that?). Since then he has contributed to such famous and loved animations as Shrek, Shrek 2 and Madagascar. He tried his hand at directing in 2004 with the short-lived prime-time cartoon series Father of the Pride, and rose to feature director in 2008, co-helming Kung Fu Panda alongside
Mark Osborne
. Sherlock Gnomes will mark Stevenson's first feature he'll direct solo. Perhaps his background in helping craft stories that are both visually compelling and emotionally engaging will give the Gnomeo & Juliet sequel a depth the original lacked. If not, there'll still be 3D to keep the box office numbers up and the kiddos engaged, right? Production on Sherlock Gnomes will begin early next year.