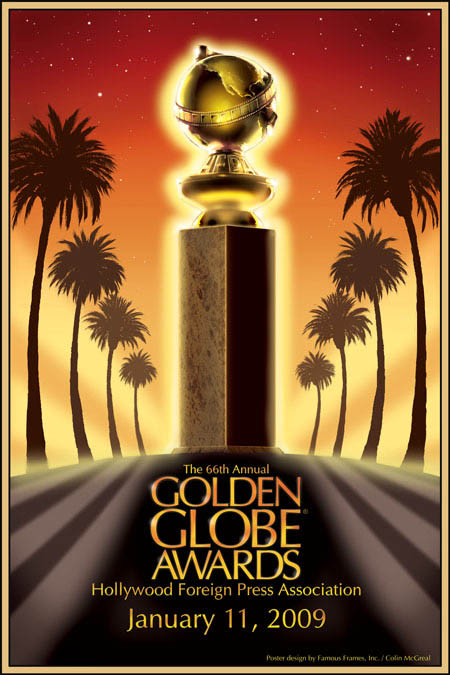 The Hollywood Foreign Press Association Board of Directors has chosen the official poster of The 66th Annual Golden Globe Awards.
The poster will be distributed to the 1300 guests attending The 66th Annual Golden Globe Awards on Sunday evening, January 11 at The Beverly Hilton.
Los Angeles artist Colin McGreal completed the poster in association with Famous Frames. The vibrant artwork features the world's most famous golden orb flanked by parallel rows of palm trees that give a sense of the iconic Los Angeles setting for the event recognized worldwide as "The Party of the Year."
The posters, which are printed on the finest archival paper featuring the embossed award and lustrous, gold metallic ink. There will also be a limited edition of 200 posters signed by the artist. Each of the 200 limited edition posters will also be signed by a celebrity at the Golden Globe Awards and be part of the "Stars For A Cause" auction conducted by Bonhams & Butterfields in May, 2009.
The 66th Annual Golden Globe Awards will take place Sunday, January 11, 2009 at The Beverly Hilton with a live telecast airing on NBC at 8 PM (EST). For more information, go to GoldenGlobes.org