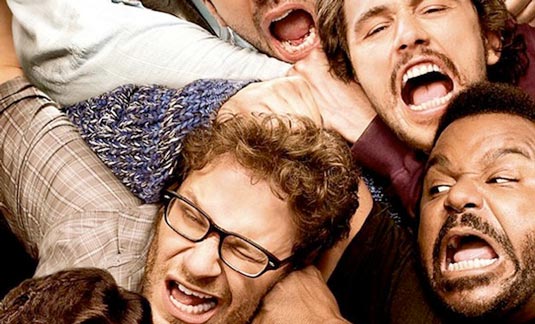 In the new unrestricted trailer for Seth Rogen/Evan Goldberg's This Is the End, the world is indeed still ending, but with less cursing – and less cocaine tossing and graphic impalement. Check it out below:
This apocalyptic comedy finds Rogen and Baruchel as fictionalized versions of themselves attending a party along with many other celebrities at Franco's equally fictional house. The party is interrupted by a cataclysm (that seems to me like alien attack/abductions) after which our six would welcome some survival lessons from Bear Grylls.
Like the red band trailer that debuted earlier this week, this one includes several of the celebrity cameos, as well as their onscreen deaths. Even though this new trailer, thanks to Yahoo! Movies, is green band, it still makes a bit of fun out of people dying. Suddenly. Some of them not due to apocalypse.
Rogen and his co-writer/producer Goldberg make their directorial debut with this movie, and it looks like they've handled some of the more fantastic elements pretty well, while hanging everything on how (not) funny it is just to see these six guys squabble and basically behave like idiots against the backdrop of such serious happenings. I liked some of Rogen's previous films, but we shall see about this one.
This Is the End also stars Jay Baruchel, Craig Robinson, James Franco, Jonah Hill and Danny McBride and it hits the theaters nationwide on June 12th, 2013.
Oh yeah, there was also a new poster, in case you've missed it earlier today: