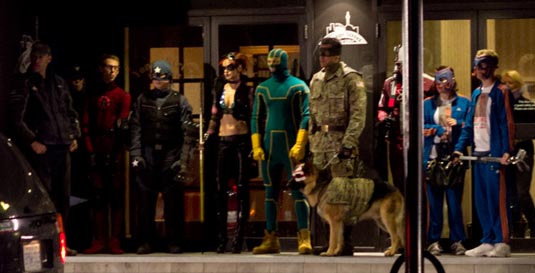 Universal has released a green-band trailer for Jeff Wadlow's Kick-Ass 2, though it's mostly the same stuff (with some new additions) and all the cursing taken out. Always funny seeing an edited trailer when you've already seen the unedited one! Not fair, Wadlow, give us some more! But, there's some wee bit of new footage here, I'd say, so it's still worth checking out. Here, see for yourself: You can also check out the red-band one, in case you wanted to compare and tell us what you think. Synopsis:
When we last saw junior assassin Hit Girl and young vigilante Kick-Ass, they were trying to live as normal teenagers Mindy and Dave. With graduation looming and uncertain what to do, Dave decides to start the world's first superhero team with Mindy. Unfortunately, when Mindy is busted for sneaking out as Hit Girl, she's forced to retire – leaving her to navigate the terrifying world of high-school mean girls on her own. With no one left to turn to, Dave joins forces with Justice Forever, run by a born-again ex-mobster named Colonel Stars and Stripes. Just as they start to make a real difference on the streets, the world's first super villain, The Mother Fu*ker, assembles his own evil league and puts a plan in motion to make Kick-Ass and Hit Girl pay for what they did to his dad. But there's only one problem with his scheme: If you mess with one member of Justice Forever, you mess with them all.
Kick-Ass 2 Stars Aaron Taylor-Johnson, Chloe Grace Moretz, Christopher Mintz-Plasse, John Leguizamo, Nicolas Cage, Lyndsy Fonseca, Donald Faison, Jim Carrey, Lindy Booth, Morris Chestnut and Yancy Butler, and it hits the theaters on August 16th, 2013. Btw. is it just me or are these three-word names being thrown around a lot, lately?