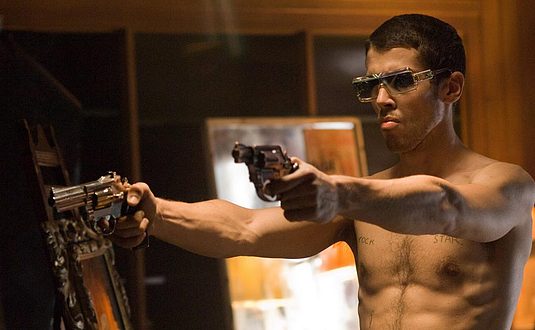 Today we have lots of new photos from Guy Ritchie's upcoming film "RocknRolla."
The film stars Gerard Butler (300), Thandie Newton, Chris "Ludacris" Bridges, Jeremy Piven, Idris Elba and Tom Wilkinson.
When a Russian mobster orchestrates a crooked land deal, millions of dollars are up for grabs, and all of London's criminal underworld wants in on the action. Everyone from a dangerous crime lord to a sexy accountant, a corrupt politician and down-on-their-luck petty thieves conspire, collude and collide with one another in an effort to get rich quick.
Newton acts as One Two's love interest, Stella, an accountant with ties to the underworld, and Elba acts as Mumbles, One Two's partner. Bridges is playing Roman, an American trying to break into the music scene in London.
"RockNRolla" is set to hit theaters on October 31st 2008.